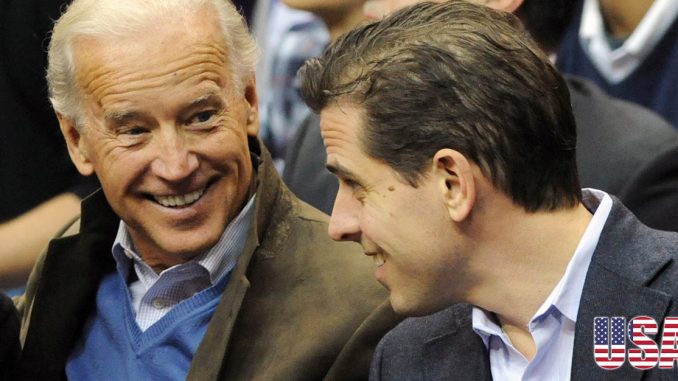 These are serious, new allegations. Hopefully, we can get the entire story before the election.
"An executive at Burisma Holdings told Hunter Biden in November 2015 that he wanted high-ranking U.S. officials to express their support for the Ukrainian energy firm as part of an effort to shut down investigations against the company's owner, according to an unconfirmed email Fox News reported Thursday.
According to Fox News anchor Tucker Carlson, Vadym Pozharskyi, a Burisma executive, emailed Biden and his business associate, Devon Archer, on Nov. 2, 2015, laying out a series of "deliverables" he sought for the company.
Biden and Archer served on Burisma's board of directors at the time. They were paid more than $80,000 a month in that role despite having no experience in the European energy sector.
At the time, the owner of Burisma, Nikolay Zlochevsky, was the target of an investigation in the U.K. for bribery. There is some dispute over whether he was under investigation in Ukraine as well.
According to Carlson, Pozharskyi told Biden and Archer that he wanted "high-ranking U.S. officials to express their 'positive opinion of Burisma.'"
"The scope of work should also include organization of a visit of a number of widely recognized and influential current and/or former US policy-makers to Ukraine in November," Pozharskyi wrote in the email, which was reviewed but not authenticated by the Daily Caller News Foundation.
He said the goal of the visit was to "bring positive signal/message and support on Nikolay's issue to the Ukrainian top officials above with the ultimate purpose to close down for any cases/pursuits against Nikolay in Ukraine."
Tucker Carlson segment featuring new emails from Hunter Biden:

"That's how things really work in Washington. Your son has a lucrative consulting deal with a Ukrainian energy company, you tailor American foreign policy to help make him rich." pic.twitter.com/EhHvi4GvXe

— Daily Caller (@DailyCaller) October 16, 2020
Pozharskyi was critiquing a consulting proposal from Blue Star Strategies, a Democratic public relations firm that eventually worked for Burisma.
Hunter Biden served on the board of directors of the Truman National Security Project with Blue Star Strategies co-owner Sally Painter.
The documents are purportedly from Hunter Biden's computer.
On Wednesday, the New York Post began publishing emails purported to be from the computer.
The origin of the emails has come under scrutiny because they fell into the hands of Rudy Giuliani, the personal lawyer for President Donald Trump who has led his own investigation into the Bidens' ties to Ukraine.
A computer shop owner in Delaware said that a man he believed to be Biden dropped off the laptop for repair in April 2019 but did not return to retrieve it.
The shop owner said that an intermediary notified the FBI about the computer. Federal prosecutors subpoenaed the device in December 2019. The shop owner said he made a copy of the computer's hard drive before turning it over to authorities. He provided the computer files to a lawyer for Rudy Giuliani.
Despite questions about the chain of custody for the computer files, the Biden campaign has not disputed the accuracy of any of the documents published so far, and Hunter Biden has not issued a statement on the matter.
The Post reported on Wednesday that Pozharskyi emailed Biden in April 2015 thanking him for "an opportunity" to meet his father.
Democratic presidential candidate Joe Biden has long denied talking about his son's business activities, including his work for Burisma. The Biden campaign issued a statement on Wednesday saying that Pozharskyi was not listed on Biden's calendars from 2015. The campaign issued a statement later in the day saying that if Biden met with the Burisma official it would have been a brief encounter on the sidelines of an event.
Republican allies of Trump have alleged that Joe Biden intervened to help Burisma because of his son's position with the company."
Here's a partial transcript of Tucker Carlson's segment:
""Tucker Carlson Tonight" have obtained another batch of emails, some exclusively. We believe they also came from Hunter Biden's laptop. We can't prove that they did, we haven't examined that computer. But every detail that we could check, including Hunter Biden's personal email address at the time, suggests they are authentic.
If these emails are fake, this is the most complex and sophisticated hoax in history. It almost seems beyond human capacity. The Biden campaign clearly believes these emails are real. They have not said otherwise. We sent the body of them to Hunter Biden's attorney and never heard back. So with that in mind, here's what we have learned.
On Nov. 2, 2015, at 4:36 p.m., a Burisma executive called Vadym Pozharskyi emailed Hunter Biden and his business partner, Devon Archer. The purpose of the email, Pozharskyi explains, is to "be on the same page re our final goals … including, but not limited to: a concrete course of actions."
So what did Burisma want, exactly? Well, good PR, for starters. Pozharskyi wanted "high-ranking US [sic] officials" to express their "positive opinion" of Burisma, and then he wanted the administration to act on Burisma's behalf.
"The scope of work should also include organization of a visit of a number of widely recognized and influential current and/or former US [sic] policy-makers to Ukraine in November, aiming to conduct meetings with and bring positive signal/message and support" to Burisma.
The goal, Pozharskyi explained, was to "close down for [sic] any cases/pursuits" against the head of Burisma in Ukraine.
It couldn't be clearer what they wanted. Burisma wanted Huter Biden's father to get their company out of legal trouble with the Ukrainian government. And that's exactly what happened. One month later to the day, on Dec. 2, 2015, Hunter Biden received a notice from a Washington PR firm called Blue Star Strategies, which apparently had been hired to lobby the Obama administration on Ukraine. "Tucker Carlson Tonight" have exclusively obtained that email.
"Hello all …" it began. "This morning, the White House hosted a conference call regarding the Vice President's upcoming trip to Ukraine. Attached is a memo from the Blue Star Strategies team with the minutes of the call, which outlined the trip's agenda and addressed several questions regarding U.S. policy toward Ukraine."
So here you have a PR firm involved in an official White House foreign policy call. How could that happen? Good question. But it worked.
Days later, Joe Biden flew to Ukraine and did exactly what his son wanted. The vice president gave a speech slamming the very Ukrainian law enforcement official who was tormenting Burisma. If the Ukrainian government didn't fire its top prosecutor, a man called Viktor Shokin, Biden explained, the administration would withhold a billion dollars in American aid. Now, Ukraine is a poor country, so they had no choice but to obey. Biden's bullying worked. He bragged about it later.
The obvious question: Why was the vice president of the United States threatening a tiny country like Ukraine to fire its top prosecutor? That doesn't seem like a vice president's role. Well, now we know why.
Viktor Shokin has signed an affidavit affirming that he was, in fact, investigating Burisma at the moment Joe Biden had him removed. Shokin said that before he was fired, administration officials pressured him to drop the case against Burisma. He would not do that, so Joe Biden canned him.
That's how things really work in Washington. Your son's got a lucrative consulting deal with a Ukrainian energy company, you tailor American foreign policy — our foreign policy– to help make him rich. Even at the State Department, possibly the most cynical agency in government, this seemed shockingly brazen."
Excerpted from the Daily Caller & Fox News.
RELATED: Biden Campaign: He May Have Had 'Informal' Meeting With Burisma Exec At Center Of Bombshell Report
Hunter Biden Allegedly Leveraged Ties With His Father To Increase Pay At Burisma New Emails Show: Report
Senate Launches Probe Into Emails Allegedly Linking Joe Biden To Son's Work With Ukrainian Gas Company
Facebook is suppressing traffic to the websites of conservative journalists. They can't control our email, though! Don't let Zuckerberg decide what news you get to see! Support independent journalism by signing up for my email newsletters! You will get my footage from leftist riots, border wall construction, and more. Enter your email below! Thank you!
Jeff Rainforth is a freelance photographer & news editor covering events on the US/Mexico border, and riots & unrest in Democrat-run cities.
Like Jeff on Facebook HERE
Follow him on Twitter HERE
Subscribe to Jeff's YouTube channel HERE