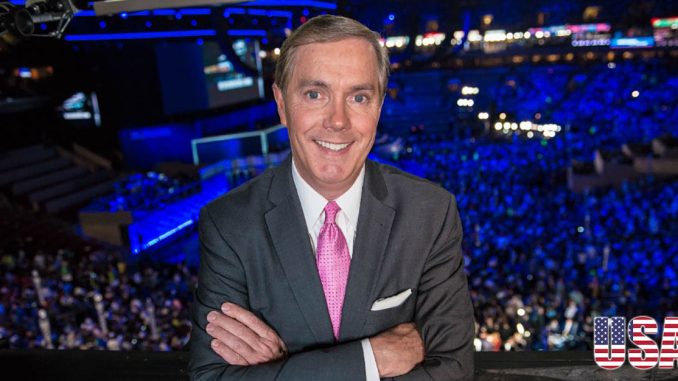 Wow. Trump was right again! It's like the whole system is rigged against him!
"C-SPAN has suspended political editor Steve Scully, who was at one time slated to moderate a presidential debate, indefinitely after he admitted he lied about his Twitter being hacked when a message to former Trump aide turned adversary Anthony Scaramucci emerged.
Scully, the "Washington Journal" host who was selected to moderate the now-canceled town hall event, went viral last week after a tweet sent from his account indicated he had reached out to former White House Communications Director Anthony Scaramucci, something he later alleged was the result of being hacked.
Scully issued his first statement addressing the controversy following his suspension.
"For several weeks, I was subjected to relentless criticism on social media and in conservative news outlets regarding my role as moderator for the second presidential debate, including attacks aimed directly at my family," Scully wrote in a statement to CNN. "This culminated on Thursday, October 8th when I heard President Trump go on national television twice and falsely attack me by name. Out of frustration, I sent a brief tweet addressed to Anthony Scaramucci. The next morning when I saw that this tweet had created a controversy, I falsely claimed that my Twitter account had been hacked."
"These were both errors in judgment for which I am totally responsible. I apologize," Scully said.
He continued, "These actions have let down a lot of people, including my colleagues at C-SPAN, where I have worked for the past 30 years, professional colleagues in the media, and the team at the Commission on Presidential Debates. I ask for their forgiveness as I try to move forward in a moment of reflection and disappointment in myself."
RELATED: WWII Hero Bob Dole Says No Repubs On Debate Commission Support Trump – "Biased & Unfair"
President Trump touted Scully's ousting on Twitter.
"I was right again!" the president exclaimed. "Steve Scully just admitted he was lying about his Twitter being hacked. The Debate was Rigged! He was suspended from @cspan indefinitely. The Trump Campaign was not treated fairly by the 'Commission'. Did I show good instincts in being the first to know?"
I was right again! Steve Scully just admitted he was lying about his Twitter being hacked. The Debate was Rigged! He was suspended from @cspan indefinitely. The Trump Campaign was not treated fairly by the "Commission". Did I show good instincts in being the first to know?

— Donald J. Trump (@realDonaldTrump) October 15, 2020
C-SPAN and the Commission on Presidential Debates (CPD) did not immediately respond to Fox News' requests for comment.
Both C-SPAN and the CPD initially defended Scully. According to C-SPAN's original statement, Scully "did not originate the tweet" in question. The statement added that the CPD was investigating the incident "with the help of authorities."
CPD later stated that "it had reported the apparent hack to the FBI and Twitter" as part of its investigation.
A spokesperson for Twitter previously told Fox News "We've no comment" when asked to confirm whether or not Scully's account was hacked.
Scully, who has not yet publicly addressed the controversy himself and could not be reached for comment, has a history of blaming "hackers" for posts made on his Twitter account, dating back to 2012 and 2013.
Tweets from 2012 and 2013 pic.twitter.com/jdeKqq7UEW

— Yashar Ali ? (@yashar) October 9, 2020
The CPD had selected Scully to moderate the second presidential debate between President Trump and Joe Biden scheduled for Oct. 15. That debate was canceled Friday night after Trump pulled out following the CPD's announcement that the event would be virtual. Biden subsequently withdrew from the debate and has since scheduled an ABC News town hall for the night that the debate was supposed to take place. Trump similarly landed a town hall with NBC News airing opposite of ABC's Biden event.
RELATED: Bombshell Email Shows Joe Biden Allegedly Met Top Exec From Ukrainian Gas Company Burisma: Report
Scully's initial tweet caused confusion and fury among critics, with many concluding the moderator meant to send his message to Scaramucci privately.
"@Scaramucci should I respond to trump," Scully wrote in the now-deleted tweet.
Scaramucci responded by telling Scully: "Ignore. He is having a hard enough time. Some more bad stuff about to go down."
Scaramucci told Kilmeade last week that he thought Scully's tweet was real, prompting his own response Thursday night. He also tweeted later Friday that he has taken Scully's hacking claim "at his word," adding, "Let's not cancel anymore [sic] people from our culture for absolutely something like this. It's insignificant. He is an objective journalist."
He responded to Scully's suspension on Thursday, writing "Brutal outcome for a silly non political tweet. Nothing objectionable. Cancel culture going too far."
Scully's credibility as an unbiased debate moderator was initially questioned after it became known that he previously worked as an intern for then-Sen. Biden and served as a staffer for the late Sen. Ted Kennedy, D-Mass.
During the 2016 campaign, Scully shared a New York Times op-ed headlined, "No, Not Trump, Not Ever."
Regarding the Debate Commission, even World War II combat veteran and former Senator Bob Dole said that the Commission was biased & unfair. As I reported last week, "Dole stated that he knows all of the Republicans serving on the Presidential Debate Commission and that not one of them supports President Trump." He went on to say that, "A biased Debate Commission is unfair." Dole tweeted that one day after Scully tweeted to Scaramucci.
The Commission on Presidential Debates is supposedly bipartisan w/ an equal number of Rs and Ds. I know all of the Republicans and most are friends of mine. I am concerned that none of them support @realDonaldTrump. A biased Debate Commission is unfair.

— Senator Bob Dole (@SenatorDole) October 9, 2020
President Trump just can't get a fair shake! We must demand accountability!
Excerpted in part from Fox News.
Facebook is suppressing traffic to the websites of conservative journalists. They can't control our email, though! Don't let Zuckerberg decide what news you get to see! Support independent journalism by signing up for my email newsletters! You will get my footage from leftist riots, border wall construction, and more. Enter your email below! Thank you!
Jeff Rainforth is a freelance photographer & news editor covering events on the US/Mexico border, and riots & unrest in Democrat-run cities.
Like Jeff on Facebook HERE
Follow him on Twitter HERE
Subscribe to Jeff's YouTube channel HERE