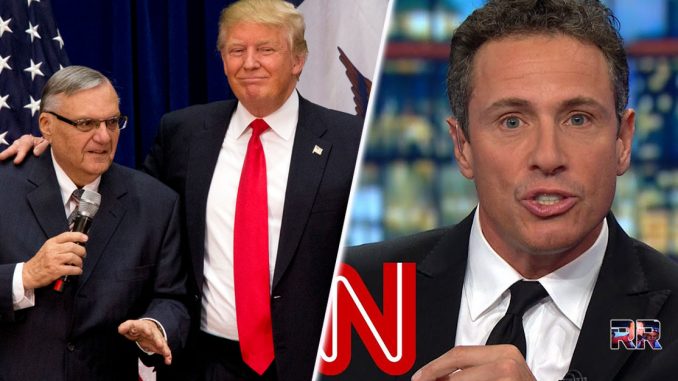 Sheriff Joe is taking on fake news CNN!
The Hill is reporting:
"Arizona's Former Maricopa County Sheriff Joe Arpaio filed a multimillion-dollar defamation lawsuit against several media outlets on Monday.
Arpaio's suit lists CNN, CNN president Jeff Zucker and its anchor Chris Cuomo; HuffPost and its senior political reporter Kevin Robillard; and Rolling Stone and its staff writer Tessa Stuart, claiming that they falsely referred to him as a "convicted felon" despite his presidential pardon.
The lawsuit, filed in Washington, D.C., is asking for $300,500,000 in damages and attorney fees. Arpaio, who ran unsuccessfully for the Senate this year, is being represented by Larry Klayman, the founder of Judicial Watch and Freedom Watch and a former federal prosecutor.
Arpaio and Klayman File Complaint for Defamation Against Jeff Zucker, Chris Cuomo, CNN, Huffington Post and Rolling Stone – https://t.co/WucTzlIoyo

— Sheriff Joe Arpaio (@RealSheriffJoe) December 11, 2018
Arpaio claims in the lawsuit that CNN targeted him three separate times. The suit specifically refers to Cuomo calling Arpaio a "convicted felon" during a Jan. 10 segment.
Arpaio, who called himself "America's toughest sheriff," was convicted of criminal contempt by a federal court in 2017 for disobeying a federal judge's order on detaining people suspected of being in the U.S. illegally.
President Trump later that year pardoned Arpaio, a longtime political supporter, before he could be sentenced in a move blasted by Democrats and civil rights groups.
CNN has made no effort to correct its phrasing and the clip is still available online, the lawsuit states.
Similar statements were reportedly made by the other news outlets.
A Nov. 5 article from Robillard on HuffPost states that Arpaio had been "sent to prison for contempt of court."
Stuart reportedly referred to him as a "ex-felon" in a Nov. 13 article for the Rolling Stone.
Arpaio, who lost the Republican Senate primary in Arizona, writes in the lawsuit that he "intends to run again for a U.S. Senate seat or other public office in 2020 as a Republican and ardent supporter of President Donald J. Trump and his administration."
Arpaio argued the reports tarnished his "distinguished" 55-year career in law enforcement and politics and severely damaged his reputation among and with the Republican establishment, which hurts his political chances going forward.
"The false publications alleged herein all occurred in this district and are continuing," his attorney said in the 10-page complaint filed in U.S. District Court for the District of Columbia on Monday.
A CNN spokesperson declined The Hill's request for comment."
On the same day news of the lawsuit came out, Arpaio told Newsmax that he is 100% behind Trump on the border wall.
Via Newsmax:
"Former sheriff Joe Arpaio told Newsmax TV on Tuesday he is "100 percent" behind President Donald Trump and "kind of like[s]" what is happening on the U.S.-Mexico border.
When asked about Trump's threat to shut down the government if he does not get funding for a wall on the southwest border, the former sheriff said he "of course" supports Trump, adding the president is "doing the right thing."
"What's more important, shutting down the government or having the terrorists coming across and criminals and all that?" Arpaio continued. "If it takes them shutting down the government or putting the army at the border, I think it should be across the border, the U.S. Army, like when I was over there . . . you've got to do everything you can."
WATCH:
Share this if you hope Joe takes down fake news CNN!