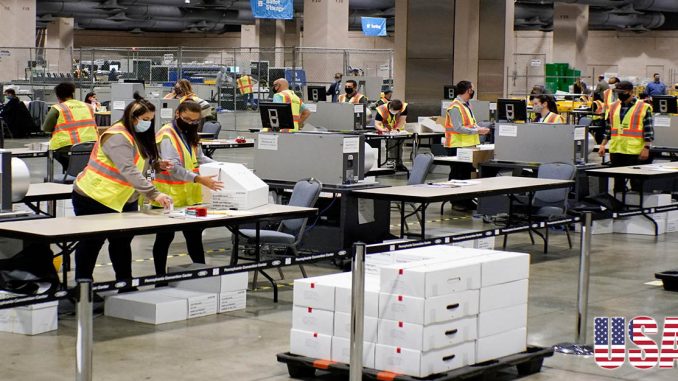 Only legal votes should be counted!
"The Democratic National Committee denied Republican claims of voter fraud in Nevada on Friday as a federal judge set an expedited hearing for later in the afternoon while former Vice President Joe Biden leads President Trump in a battleground state that remains too close to call.
Republicans sent a criminal referral to the Justice Department on Thursday, seeking an investigation into alleged voter fraud in Nevada, a state Trump needs to win in order to have a chance at a second term. The Nevada Republican Party announced on Thursday that lawyers reached out to Attorney General William Barr with vote counting still underway in the Silver State.
"Our lawyers just sent a criminal referral to AG Barr regarding at least 3,062 instances of voter fraud. We expect that number to grow substantially. Thousands of individuals have been identified who appear to have violated the law by casting ballots after they moved from NV," the Nevada GOP said in a tweet.
Michigan: RNC Claims Software Glitch Switched 6,000 Repub Votes To Dem, 47 Counties Used Software
A DOJ official told the Washington Examiner on Thursday evening that the agency received the criminal referral and was looking into the matter.
"Now, with nearly all of the votes in the state having already been counted, a group of plaintiffs backed by President Trump's campaign has filed a lawsuit requesting a remedy that would meaningfully slow Clark County's ballot processing just as its votes could swing the presidential election," Democratic lawyers from Perkins Coie said in response on Friday. "The Democratic National Committee and Nevada State Democratic Party plainly have a significantly protectable interest in this case … Two days after the election and after the canvass is well under way, two individual voters and two Republican congressional campaigns filed this lawsuit challenging Clark County's election procedures. Plaintiffs' claims are too late, rife with procedural deficiencies, and meritless."
Republican candidates for Congress in Nevada filed a late Thursday complaint with the U.S. District Court of Nevada against Secretary of State Barbara Cegavske, alleging the use of a flawed signature verification system, the denial of access to vote-count observation, and voter fraud.
"Irregularities have plagued the election in Clark County, including lax procedures for authenticating mail ballots and over 3,000 instances of ineligible individuals casting ballots. Ballots have even been cast on behalf of deceased voters. Moreover, the public has often been prohibited from observing the processing of mail ballots, resulting in much of their work being done in the shadows without public accountability," the lawsuit said.
The DNC said that it "den[ies] the allegations."
BREAKING: Lawsuit Alleges That At Least 21,000 Dead People Are On Pennsylvania Voter Rolls
Judge Andrew Gordon, an Obama nominee, said Friday that "IT IS ORDERED that the plaintiffs' motion to expedite hearing and briefing is GRANTED" and that a hearing on the GOP motion for a temporary restraining order and a preliminary injunction is set for a phone hearing Friday at 5 p.m. EST.
The GOP-compiled list of 3,062 unnamed Nevada voters who had allegedly moved out of the state, which was first obtained by the Nevada Independent, included at least 146 of the unnamed people who appear to have moved to military-related locations, with the "move to city" showing APO, FPO, AFB, or JB — Army Post Office, Fleet Post Office, Air Force Base, and Joint Base, respectively. Another 16 of the unnamed people had switched their address to a DPO, or Diplomatic Post Office. The "move to state" for those people is listed as AP and AE — meaning the U.S. armed forces in the Pacific and in Europe, respectively.
BREAKING: Irregularities In Deep Red MI County Investigated After Massive Biden Lead Raises Eyebrows
The complaint said that Republicans were asking for "an Injunction directing Defendants and their officers, agents, employees, attorneys, and any other person acting under their direction or control to cease the use of the Agilis system to count ballots in Clark County" as well as "injunctive relief directing Defendants and their officers, agents, employees and any other person acting under their direction or control to allow meaningful access to the ballot counting process."
The Nevada Supreme Court previously allowed Clark County to continue with its mail-in ballot vote-counting process in a Tuesday ruling.
Earlier Thursday, Trump's campaign announced plans to file a lawsuit alleging that there were at least 10,000 ballots cast in Nevada by voters who do not live in the state.
CHECK OUT THE POPULIST PRESS! DRUDGE TURNED ON US SO THEY ARE TAKING OVER. ENDORSED BY STEVE BANNON!
In a letter to Barr shared on Twitter by Trump campaign spokesman Tim Murtaugh, lawyers for Trump's campaign said, "We write to bring to your attention criminal voter fraud in the State of Nevada in the 2020 general election. Specifically, we have initially identified 3,062 individuals who appear to have improperly cast mail ballots in the election." They "verified" the claims of alleged voter fraud by "cross-referencing the names and address of voters with the National Change of Address database." The letter was penned by lawyer Shana Weir as well as by Jesse Binnall, one of the lawyers defending retired Lt. Gen. Michael Flynn in his criminal case.
A separate letter from the lawyers was sent to Mary-Anne Miller, an attorney for Clark County, Nevada, which includes Las Vegas, outlining their findings and accusing Clark County Registrar Joe Gloria of "inaction" on cleaning voter rolls that the lawyers said had led to "material adverse consequences on our election security." Gloria's office didn't respond to the Washington Examiner's request for comment, but Miller said in a short email that "we will be taking a look at this, but it is likely that most of these votes are military families or individuals who have extended plans away from Nevada but still maintain their legal residence in Nevada, which qualifies them for voting."
Gloria told reporters Thursday morning that "we are not aware of any improper ballots that are being processed." When asked if he had been shown the voter fraud evidence that Republicans have alleged, Gloria said, "Not directly that I'm aware of … What I can tell you is that we're firm in our commitment to making sure that we're processing ballots with high integrity in the state of Nevada."
Adam Laxalt, a Republican who formerly was Nevada's attorney general, alleged extensive voter fraud.
"We firmly believe that there are many voters in this group of mail-in people who are not proper voters," Laxalt said during a press conference in Las Vegas earlier in the day. "In the last many days, we have received reports of many irregularities across the valley. We believe that there are dead voters that have been counted. We are also confident that there are thousands of people whose votes have been counted that have moved out of Clark County during the pandemic."
DOJ spokeswoman Kerri Kupec told the Washington Examiner earlier on Thursday that "the Department of Justice pursues all actionable information it receives and, as is always the case, encourages anyone who suspects a federal crime to report it to their local FBI field office."
The Nevada State Democratic Party reacted to the threat of legal action by casting the Republicans as desperate.
"The writing is on the wall for the Trump campaign. As the voices of Nevadans are finally heard, Trump and the Nevada GOP have no other recourse than scare tactics and baseless suits," Nevada State Democratic Party Chairman William McCurdy II said."
Excerpted from the Washington Examiner.
Facebook is suppressing traffic to the websites of conservative journalists. They can't control our email, though! Don't let Zuckerberg decide what news you get to see! Support independent journalism by signing up for my email newsletters! You will get my footage from leftist riots, border wall construction, and more. Enter your email below! Thank you!
Jeff Rainforth is a freelance photographer & news editor covering events on the US/Mexico border, and riots & unrest in Democrat-run cities.
Like Jeff on Facebook HERE
Follow him on Twitter HERE