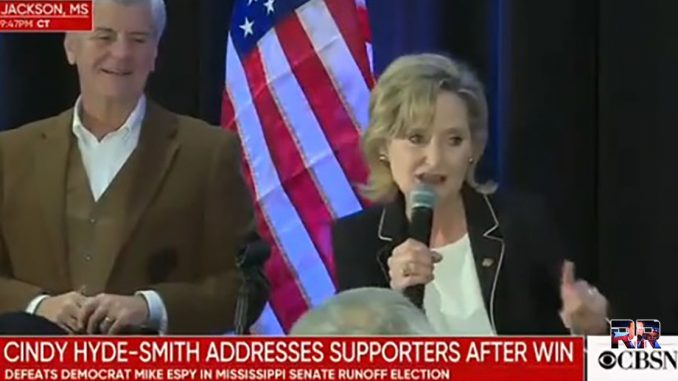 Excellent news! The GOP now has 53 seats in the U.S. Senate! Trump is stoked!
Fox News is reporting:
"Republicans on Tuesday expanded their incoming Senate majority to 53 seats, as incumbent Republican Sen. Cindy Hyde-Smith handily beat back an insurgent challenge by Democrat Mike Espy in Mississippi's special election runoff to become the first woman ever elected to Congress from the state.
With 90 percent of precincts reporting, Hyde-Smith had 414,678 votes to Espy's 342,693 — a commanding margin of 54.8 percent to 45.2 percent, according to state election officials.
Fox News has confirmed that Espy has called Hyde-Smith to concede the race, which marks the final midterm contest of 2018. Hyde-Smith is set to take the stage at her election party at approximately 11 p.m. ET.
Democrat Mike Espy has conceded to Republican Cindy Hyde-Smith, the first woman elected to Congress from Mississippi, says, "She has my prayers as she goes to Washington to unite a very divided Mississippi." pic.twitter.com/d1aTivzpRf

— Ryan Saavedra (@RealSaavedra) November 28, 2018
Hyde-Smith, 59, is an ardent supporter of President Trump who was appointed earlier this year by Mississippi's governor to fill retiring Sen. Thad Cochran's seat. She will finish out the remaining two years of Cochran's term in the deep-red state that went for President Trump by nearly 20 percentage points in the 2016 presidential election.
Hyde-Smith's win gives Republicans more leeway to ensure the confirmation of Trump's federal judicial and Cabinet nominees that require Senate approval, and strengthens the party's chances of holding the majority in 2020.
Congratulations to Senator Cindy Hyde-Smith on your big WIN in the Great State of Mississippi. We are all very proud of you!

— Donald J. Trump (@realDonaldTrump) November 28, 2018
"Being on that MAGA-wagon, the Make American Great Again bus, we have bonded, we have persevered, we have gotten through things, we were successful today": Cindy Hyde-Smith thanks staff and supporters after winning runoff election. https://t.co/lyHm1wyUFr pic.twitter.com/xDRXjJP89y

— CBS News (@CBSNews) November 28, 2018
"Cindy Hyde-Smith has been a strong conservative voice since joining the Senate, so it should come as no surprise that she was elected by Mississippians to represent them in Washington," National Republican Senatorial Committee (NRSC) Chairman Cory Gardner said in a statement. "Senator Hyde-Smith won tonight because she has a trusted record of fighting for Mississippi, and we are happy she will be returning to the United States Senate."
Despite the race's wide-ranging implications, turnout Tuesday, as expected, was significantly lower than normal Election Day figures. A spokeswoman for the secretary of state's office, Leah Rupp Smith, said observers from the office were seeing "steady but slow" turnout the first few hours, but the pace picked up late in the day, with estimates that 30 to 40 percent of registered voters cast ballots.
On Nov. 6, Hyde-Smith prevailed in a four-way race that included firebrand Republican Sen. Chris McDaniel — but she was unable to secure more than 50 percent of the vote amid heavy turnout, owing to McDaniel's strong showing. The Nov. 6 election — which saw nearly half of registered voters in Mississippi cast ballots in the Senate race– triggered Tuesday's runoff."
Navy SEAL Who Killed Bin Laden Just Gave Migrants Sage Advice & It's Hilarious
BREAKING: Melania Just Asked For The Help Of All Americans After Tragedy
Geraldo Gives Emotional Defense Of Migrants – General Flynn's Son Blows Him Sky High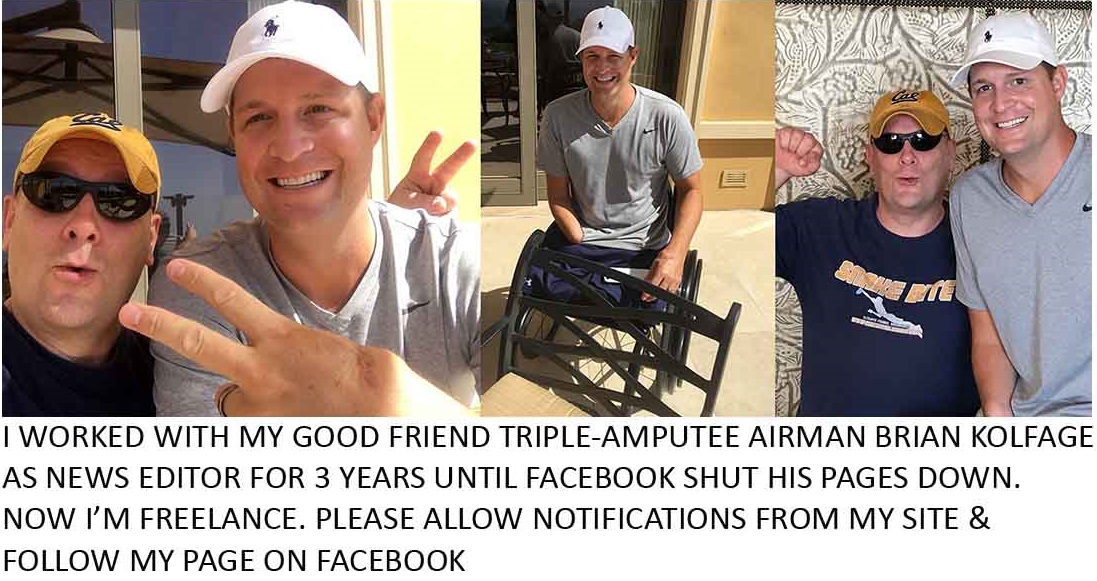 Follow Jeff on Facebook for the latest news! MAGA!