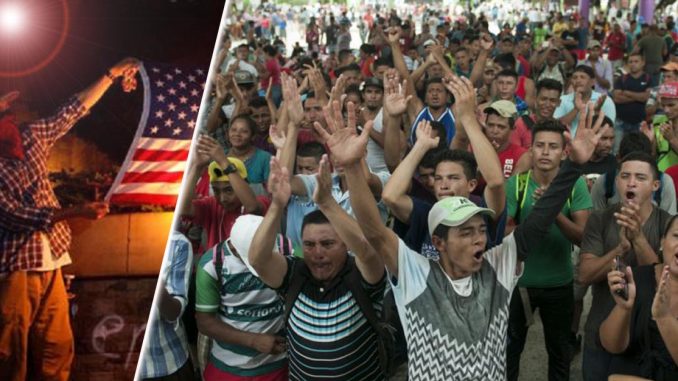 Breitbart is now reporting that the ever-growing so-called "Caravan" which is making its way from Honduras to the US/Mexico border has hit a new low as foreigners supporting the group burned an American flag during a protest in favor of the caravan of future illegal aliens which is currently stuck on the Guatemala-Mexico border. To add insult to injury, the flag had a swastika painted on it.
Reports confirmed this blatant show of disdain for our nation happened in front of the U.S. Embassy in Tegucigalpa, Honduras on Friday.
Here is more via The AP:
"The throng grew even larger than when the migrants arrived at the border bridge, swelling overnight to 5,000.
It was not immediately clear where the additional travelers came from since about 2,000 had been gathered on the Mexican side Saturday night. But people have been joining and leaving the caravan daily, some moving at their own pace and strung out in a series of columns.
Their destination Sunday was the city of Tapachula in Chiapas state. Under a blazing sun, small groups of 20 to 30 paused to rest in the shade of trees on the side of the road, and by afternoon the caravan had evolved into long lines of walkers straggling for miles.
Jesus Valdivia, of Tuxtla Chico, Mexico, was one of the many who pulled his pickup truck over to let 10 or even 20 migrants hop in at a time, sometimes causing vehicles' springs to groan under the weight.
"You have to help the next person. Today it's for them, tomorrow for us," Valdivia said, adding that he was getting a valuable gift from those he helped: "From them we learn to value what they do not have."
Passing freight trucks were quickly boarded by dozens of migrants, and straining tuk-tuks carried as many as a half-dozen.
Brenda Sanchez of San Pedro Sula, Honduras, who rode in Valdivia's truck with three nephews ages 10, 11 and 19, expressed gratitude to "God and the Mexicans who have helped us."
She even had kind words for Mexican police: "We are very grateful to them because even though they closed the doors to us (at the border), they are coming behind us taking care of us."
Federal police monitored the caravan's progress from a helicopter and had a few units escorting it. Outside Tapachula, about 500 black-uniformed officers briefly gathered along the highway on buses and in patrol units, but they said their orders were to maintain traffic and not to stop the caravan. They moved on toward the city before the caravan reached them.
As the migrants passed through villages on the outskirts of Ciudad Hidalgo, locals applauded, shouted encouragement and donated supplies.
Maria Teresa Orellana, a resident of Lorenzo, handed out sandals. "It's solidarity," she said. "They're our brothers."
Mexico's Interior Department said in a statement that federal and Chiapas state authorities were providing assistance to migrants, including legal counseling for those who applied for asylum. It released a video showing workers doling out food, medicine and medical treatment.
In comments to reporters after a rally in Elko, Nevada, on Saturday night, Trump said of Mexico's response: "I just want to say, on behalf of the American public, that we appreciate what Mexico is doing. They've really stepped up, and it will not be forgotten."
Trump also repeated: "I will seal off the border before (the migrants) come into this country, and I'll bring out our military, not our reserves."
Mexican President-elect Andres Manuel Lopez Obrador said he was suggesting to Trump that the United States, Canada and Mexico seek an agreement to invest in development in Central America and southern Mexico, which is home to many of that country's poor.
"In this way we confront the phenomenon of migration, because he who leaves his town does not leave for pleasure but out of necessity," said Lopez Obrador, who takes office Dec. 1.
Mexican authorities had refused to allow the caravan mass entry from Guatemala, instead accepting small groups to process asylum requests and handing out some 45-day visitor permits. An estimated 1,500 were still on the Guatemalan side of the Suchiate, hoping to enter legally.
But police could do little if anything in the face of the throngs who avoided the official entry point and crossed the notoriously porous border elsewhere.
Migrants marching north Sunday said they gave up on Mexico because the application process was too slow, and most wanted to continue to the United States anyway.
"We're warriors, we got to get to the place we got to get to. We're gonna keep on going and we're not gonna stop," Luis Puerto, 39, of Colon, Honduras, said in English.
For Puerto, that place is North Carolina, where he has a wife and two daughters. He said he was recently deported from the United States after a brush with the law that he did not specify.
"We are going to get to the border of the U.S.," he said. "I am not going to stop. I don't care if I die."
President Trump took to Twitter to call attention to this blatant attack on our nation's sovereignty.
Sadly, it looks like Mexico's Police and Military are unable to stop the Caravan heading to the Southern Border of the United States. Criminals and unknown Middle Easterners are mixed in. I have alerted Border Patrol and Military that this is a National Emergy. Must change laws!

— Donald J. Trump (@realDonaldTrump) October 22, 2018
Every time you see a Caravan, or people illegally coming, or attempting to come, into our Country illegally, think of and blame the Democrats for not giving us the votes to change our pathetic Immigration Laws! Remember the Midterms! So unfair to those who come in legally.

— Donald J. Trump (@realDonaldTrump) October 22, 2018
Guatemala, Honduras and El Salvador were not able to do the job of stopping people from leaving their country and coming illegally to the U.S. We will now begin cutting off, or substantially reducing, the massive foreign aid routinely given to them.

— Donald J. Trump (@realDonaldTrump) October 22, 2018
What is perhaps the most eye-opening fact is how these people want to come to the U.S. but they proudly fly their own nation's flags as they make their way to our border.
Does this picture look like people who want to be Americans? Or does it look like an invading foreign force?