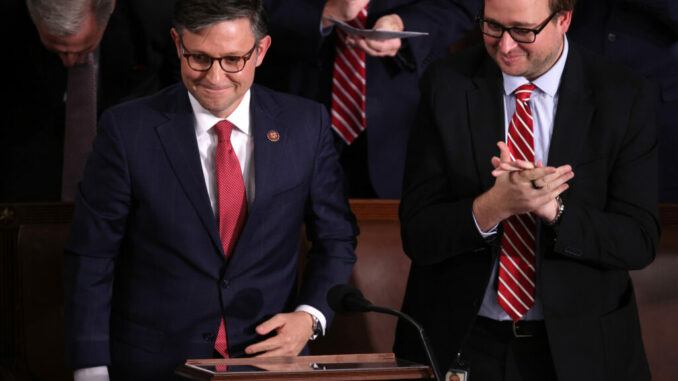 The United States House of Representatives has voted in Rep. Mike Johnson of Louisiana as speaker.
"It is the honor of a lifetime to have been elected the 56th Speaker of the House," Johnson said Wednesday. "Thank you to my colleagues, friends, staff, and family for the unmatched support throughout this process."
"It has been an arduous few weeks, and a reminder that the House is as complicated and diverse as the people we represent," he added. "The urgency of this moment demands bold, decisive action to restore trust, advance our legislative priorities, and demonstrate good governance. Our House Republican Conference is united, and eager to work."
Johnson promised to ensure that the House "delivers results and inspires change for the American people."
"As Speaker, I will ensure the House delivers results and inspires change for the American people," he said. "We will restore trust in this body. We will advance a comprehensive conservative policy agenda, combat the harmful policies of the Biden administration, and support our allies abroad. And we will restore sanity to a government desperately in need of it. Let's get back to work."
Johnson, a Republican, was chosen during a closed-door meeting of Republicans on Tuesday evening, and the House voted on his speakership Wednesday afternoon.
Republicans unanimously voted for Johnson in a strong show of support after weeks of voting. Johnson won 220 votes, while House Minority Leader Hakeem Jeffries earned 209 votes from Democrats.
News of his speakership was widely praised by his Republican colleagues, such as Lauren Boebert of Colorado.
"I can tell you, this nation is going to absolutely love Mike Johnson," she said on Wednesday. "He is a true American patriot who has united our party and is going to help us Save America!"
"Despite the unhinged reactions from the swamp and their allies in the corporate media, House Republicans have proven once again what leadership looks like," Heritage Foundation President Kevin Roberts said following the vote. (The Daily Signal is the news outlet of The Heritage Foundation)
"Congratulations, Mr. Speaker," he added. "This is a historic win for the conservative movement, and more importantly, a win for the American people. Heritage is ready to fight alongside you."
Parental rights activist Asra Nomani praised Johnson for his work highlighting the voices of parents fighting for transparency in schools.
"I was a mama bear on Capitol Hill and @RepMikeJohnson had my back — and the backs of parents everywhere who speak of truth to power," she said. "He yielded his time to me, so I could stop the shaming of parents. Congratulations to you, Rep. Johnson for being a leader for ALL Americans."
House Majority Whip Tom Emmer of Minnesota had won the Republican speaker nomination Tuesday morning, but around 26 House Republicans voted against him during the closed-door roll call vote, and Emmer dropped out of the speaker's race on Tuesday after former President Donald Trump warned Republicans not to support him, saying he is "totally out-of-touch with Republican voters."
Republicans also previously underwent three rounds of voting on Jim Jordan of Ohio for speaker. Jordan lost all three rounds, and on Friday afternoon, House Republicans voted to remove him as the nominee.
Former House Speaker Kevin McCarthy had won the speaker position in January after 15 rounds of voting. The House ousted him from his leadership position on Oct. 3.
Majority Leader Steve Scalise had won the Republican conference vote for the speaker nomination over Jordan in early October, but he dropped out after a flurry of Republicans said they would not vote for him.
This is a breaking news story. Please check back for updates.
Have an opinion about this article? To sound off, please email [email protected], and we'll consider publishing your edited remarks in our regular "We Hear You" feature. Remember to include the URL or headline of the article plus your name and town and/or state. 
The post Mike Johnson Becomes Speaker of the House of Representatives appeared first on The Daily Signal.