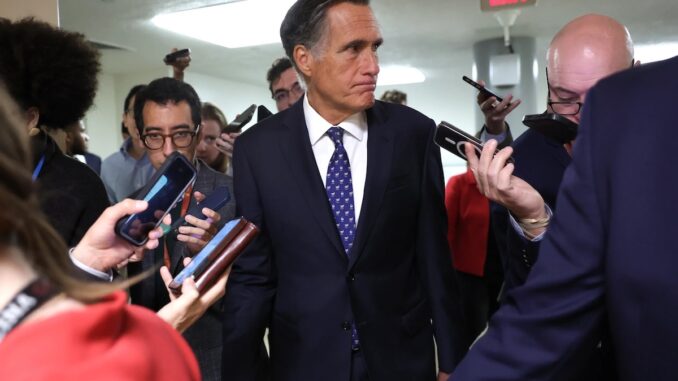 Sen. Mitt Romney (R-UT) said on Monday that he will decide on whether to run for a second term in 2024 by this fall as multiple Republican contenders are poised to compete for the seat.
"I'll be making that decision sometime this fall," Romney told KUTV 2News in Salt Lake. "Haven't made a final decision yet, but my decision will be based on whether I think I can get things done for the people of Utah."
The Utah Republican has become a top critic of former President Donald Trump, potentially threatening his reelection campaign as the state carried the current GOP front-runner in 2016 and 2020.
"I don't go to Washington to make noise," Romney said. "I go to Washington to get things done."
While Romney weighs a bid to run again, the Utah senator is polling favorably in his home state. A recent poll by Noble Predictive Insights showed nearly 30% of voters would support Romney in a hypothetical matchup with other Republican candidates.
A hefty fundraising haul could indicate that Romney is gearing up for a competitive race, bringing in over $1 million in contributions to his campaign from April through June.
Republican Riverton Mayor Trent Stagg was the first candidate to launch a bid opposing him in next year's primary, often throwing jabs at Romney for his lack of presence in Utah.
"As a mayor in Utah, I can not tell you the last time I saw Mitt Romney. He seems to serve one purpose in the Senate, and that is to spite Donald Trump," Stagg wrote on X, formerly known as Twitter.
Utah House Speaker Brad Wilson, a possible challenger, brought in over $2 million since launching an exploratory committee for Senate in April. This month, over 60 conservative Utah lawmakers endorsed Wilson, encouraging him to run.
Follow me on Facebook HERE
Subscribe to my YouTube HERE
Follow me on Rumble HERE
Follow me on Gettr HERE
On Truth Social HERE
On Instagram HERE
My non-political, professional photography page on Facebook is here, and on Instagram here
Check out my new ad-free, reader-supported Substack for my live border & other reporting.