As I reported on Wednesday, triple-amputee veteran Brian Kolfage was arrested by 15 armed agents from the New York United States Postal Inspection Service two weeks ago. Kolfage, the founder of the wildly popular border wall construction non-profit, We Build the Wall, is accused of receiving payments for his work after initially stating that he would take no salary. Acting U.S. Attorney Audrey Strauss (A Democrat) of the Southern District of New York brought the charges against Kolfage.
Now, new details are coming to light about Kolfage's treatment by the federal agents who were sent from New York to his home in Florida.
Kolfage joined the Air Force before the September 11, 2001 terror attacks that destroyed the Twin Towers in New York City, and that killed almost 3000 Americans. He wanted to serve. He wanted to keep his fellow Americans safe from foreign enemies. It was his duty, he believed.
During Brian's second tour in the Middle East, he volunteered to travel from Kuwait to provide security for a flight line in Iraq.
On September 11th, 2004, exactly 3 years to the day from the 9/11/01 attacks, a 107 mm rocket landed feet from Senior Airman Kolfage. He lost both of his legs just below the hip and his right hand.
Kolfage wasn't expected to survive, let alone walk again, but he did.
After almost a year recovering at Walter Reed Army Medical Center, Kolfage walked out of the facility. Kolfage is the most severely wounded Airman to survive any war.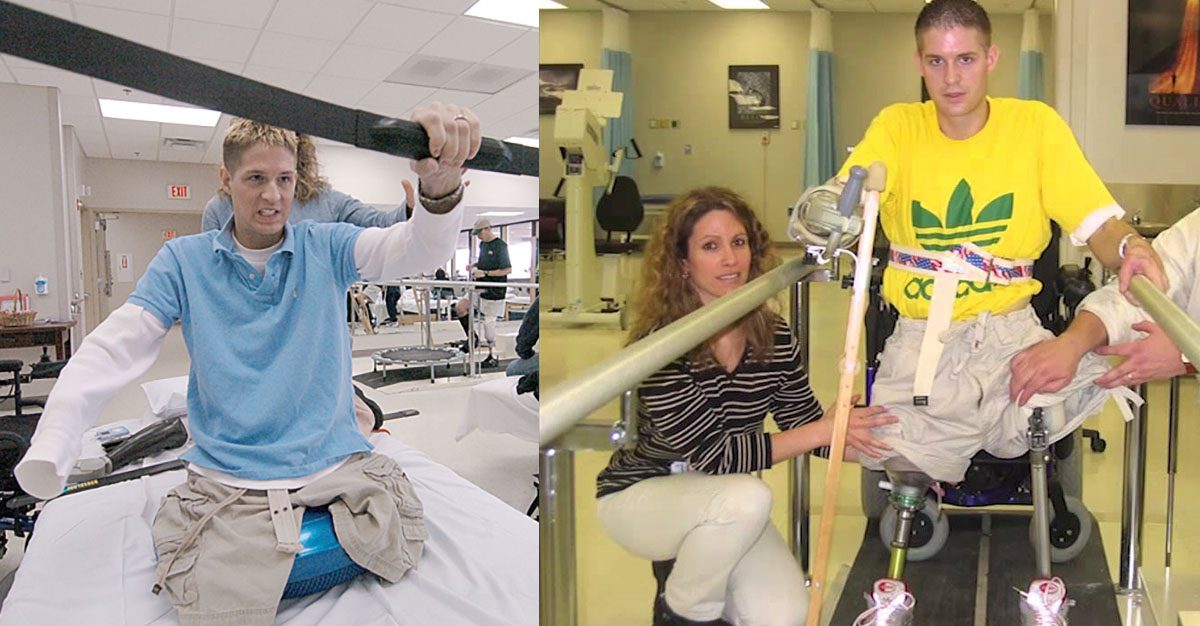 Kolfage's website states:
In 2011, Brian married Ashley Goetz. The couple currently resides in Florida with their two children. In 2018, Brian founded We Build the Wall, a 501(c)(4) organization dedicated to building private sections of the wall along the U.S. – Mexico border. Since its launch, the organization has completed its first two construction sections and aims to build a total of 100 miles of wall along the border.
Which leads us to where we are today. Two weeks ago, 15 armed USPIS agents from New York rolled up to Kolfage's home in Florida to arrest him. They had planned the raid far, far in advance, yet when they rolled up they made ZERO attempts to accommodate the triple-amputee war hero.
The agents did not have an ADA van for him
Kolfage wasn't allowed to wear his prosthetic legs
He literally had to drag himself into one of the agent's vehicles
His wife & small children were watching the whole event unfold through a window
Airman Kolfage felt completely humiliated & subhuman
SHARE THIS IF YOU WANT JUSTICE FOR AIRMAN KOLFAGE!
Disabled World states this about the arrest & reasonable accommodation of disabled persons:
The 'reasonable-accommodation-during arrest theory is based on the contention that the law enforcement officer, "failed to reasonably accommodate the person's disability in the course of investigation or arrest, causing the person to suffer greater injury or indignity in the process than other arrestees." Unlike the wrongful arrest theory, this one is based on a proper investigation or arrest of a person with a disability for unlawful conduct related to that disability.
The agents who were sent by the Southern District of New York to arrest Kolfage didn't inform US Marshalls in Florida of the raid until they had him in a vehicle. It is the jurisdiction of the Marshalls and they should have been contacted. If they had been, they would have sent an "A-Team" and Airman Kolfage would have been treated properly.
Look at this picture of Airman Kolfage.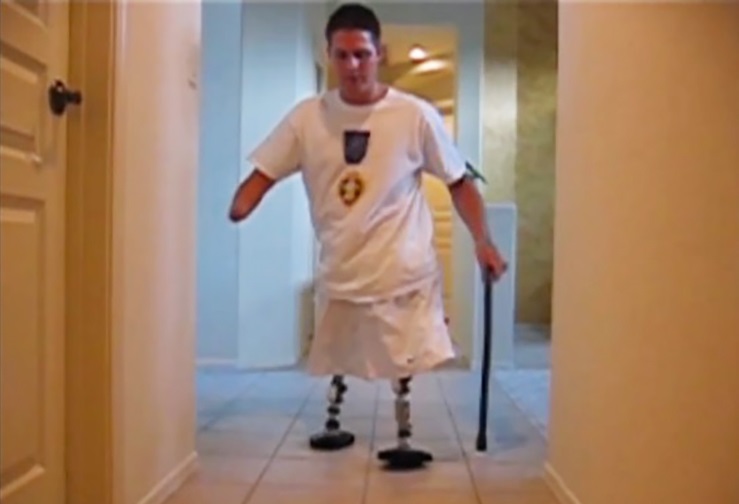 He lost both of his legs AT THE HIPS. He has ONE HAND. Do you know how difficult it is to get around with no legs & only one hand? Kolfage has to literally drag himself on the ground with one hand if no one is there to help him. The federal agents sent by the SDNY completely humiliated Kolfage by not allowing him the use of his prosthetic legs and forcing him to drag himself into their vehicle. Kolfage VOLUNTEERED to go fight & keep Americans safe after the attacks on 9/11. He gave three limbs for his country, and THIS is how federal agents sent by a Trump-hating Democrat treat him? It seems very likely that the SDNY did this on purpose to humiliate Airman Kolfage. No disabled veteran should have to be put through such a horrifying experience like this.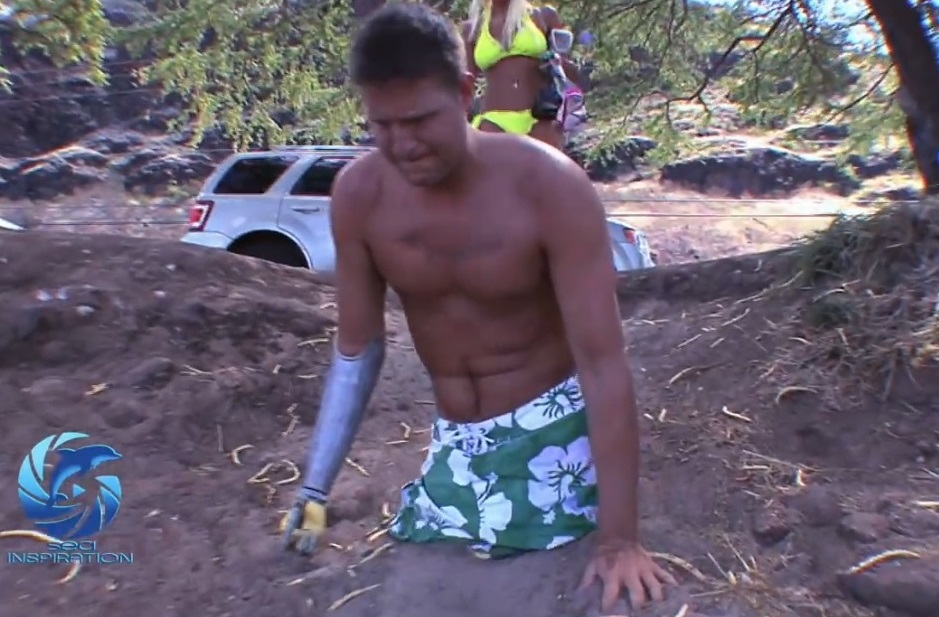 The Gateway Pundit reported this about Kolfage's arrest:
"One expert who worked with disabled Americans wrote us and shared:
These New York USPIS agents violated SO MANY DISABILITY AND HUMAN RIGHTS' LAWS I can't even begin to tell you. Laws were broken in New York, Florida, AND federally. Plus, they went over state lines! They botched this one so bad, I can't even count the ways. The fact they DID NOT have an accessible van!!! And an inaccessible jail cell with no accessible bathroom?!! Are. you. kidding. me! Exactly, HOW did these goons get him from his driveway into their car? Three guys? Four guys, manhandling him, throwing him in the car?! They "FORGOT" to bring an accessible van?

How was he supposed to stay upright in the car seat? Who latched his seat belt? How was he supposed to pee at the jail? What did he sit upon once in the jail cell? Utter clowns. Incompetent. Utter abuse and illegal and disgusting, what these New York USPIS agents did.

New York is totally corrupt and run by socialists. This is what socialism does to families. Hatred for disabled war vets and hatred of old Nana and Grandpa in nursing homes. Disposable human beings, to them. Not worthy of life. Truly, as the Nazis stated of people with disabilities: "life unworthy of life."
Kolfage was taken to Pensacola where they placed him in a non-accessible holding area while waiting to see the judge. The cell they placed him in was not ADA compliant nor was the restroom which was not safe for Brian's wheelchair or his safety. All likely in violation of the ADA."
A Florida US Marshall said of Kolfage's arrest:
"Nothing like the state of New York to come down here to Florida and make a political show."
Another US Marshall told Kolfage:
"I don't agree with the handling of this one bit, it's 100% political!"
Airman Kolfage had to endure all of this just because he started an organization to build walls on our border (which he DID!) and because of the inordinate amount of time & energy it took to oversee and plan construction of the walls, he received reimbursement for his labor. The federal agents are completely at fault for the way Kolfage was treated. It was their duty to accommodate the triple-amputee veteran and not completely humiliate him in front of his family & the world. This is not how you repay those who gave so much for their country!
SHARE THIS IF YOU WANT JUSTICE FOR AIRMAN KOLFAGE!
Jeff Rainforth is a freelance photographer & news editor covering events on the US/Mexico border, and riots & unrest in Democrat-run cities.
Like Jeff on Facebook HERE
Follow him on Twitter HERE
Subscribe to Jeff's YouTube channel HERE