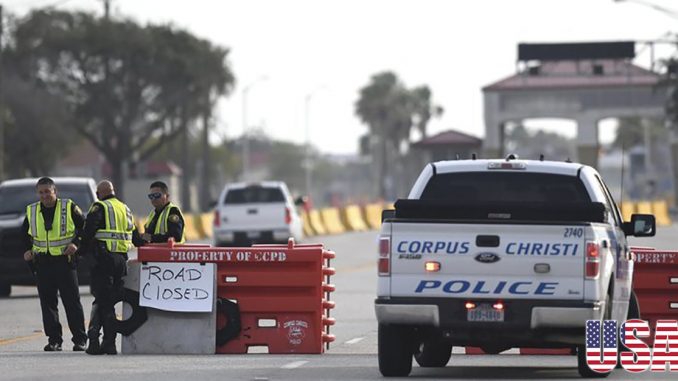 This is the second Islamic-terror related attack on a U.S. naval base in less than six months. According to the Center for Immigration Studies, the attacker, Adam Salim Alsahli, was born in Syria, but because his father, Salim Alsahli, became a naturalized U.S. citizen in 1984, U.S. citizenship was conferred on the younger Alsahli. More needs to be done to vet those who are allowed to become U.S. citizens when they come from terror hotspots. Thankfully, because of the heroic action of a sailor who stopped Alsahli from getting his vehicle into the base, there were no deaths other than the terrorist who was shot dead by Navy security forces.
The Navy Times is reporting:
"The FBI officially identified the gunman killed in an attack Thursday morning on Naval Air Station Corpus Christi, Texas, as 20-year-old Adam Salim Alsahli.
Alsahli's attacked injured one sailor and is being treated as an act of terrorism, FBI officials said Thursday afternoon.
Alsahli was killed after Navy police responded to reports of an active shooter on the base at 6:15 a.m.
FBI agent Leah Greves said Thursday that there may be "a potential second related person of interest at large in the community."
"We would encourage the public to remain calm," she said. "If you see something, say something."
Calling the investigation "fluid and evolving," Greves declined to offer additional information regarding what happened.
One sailor was injured Thursday morning after being struck by a bullet, but a defense official said their protective vest stopped the round. The AP reported that she was able to roll over and hit the switch that raised a barrier, preventing the man from getting onto the base, the officials said.
The sailor was later released from the hospital, according to a Navy statement.
There was an initial concern that Alsahli may have an explosive device, but Navy experts swept the area and the car and found nothing. The officials spoke on condition of anonymity to discuss details about an ongoing investigation. Officials were still working to process the crime scene late into the day and had recovered some type of electronic media.
Later, federal agents were seen carrying items from inside a house that a Corpus Christi police tactical unit had surrounded and a public records search by local television station KRIS indicated was Alsahli's last known address. A police spokesman would not confirm that the activity was related to the shooting at the Naval station.
The shooting is the third such incident on a Navy base in the past six months.
A Saudi flight student at Naval Air Station Pensacola, Florida, shot and killed three sailors on the base in December.
Authorities announced this week that the gunman had reportedly communicated with al-Qaida operatives in planning the attack.
Kieschnick said that while Corpus Christi does take international students, they have not accepted any Saudi students since the Pensacola shootings.
Also in December, a sailor opened fire at Pearl Harbor Naval Shipyard, Hawaii, killing two Defense Department workers and wounding a third before taking his own life."
The Center for Immigration Studies reported on how Alsahli entered the United States:
"The Syria-born attacker killed Thursday morning during an apparent jihad-inspired attack on a Texas naval air station was neither a resettled refugee nor an asylum-seeker who slipped through security vetting. Instead, CIS has learned that he fell under an immigration category unusual for foreign-born extremists who have attacked inside the United States.
Adam Alsahli, 20 at the time of his death Thursday, was already a U.S. citizen when he moved from the Middle East to Corpus Christi, Texas, in 2014 with his mother (and likely several siblings) at the height of the Syrian civil war, by virtue of his father's American citizenship, according to two sources familiar with the family's immigration status. The attacker's 75-year-old father, Salim Alsahli, became a naturalized U.S. citizen in 1984, the sources told CIS, and subsequently seems to have sired a family back in Syria that included Adam Alsahli's birth in 1999.
Although his children and their mother were born in and resided in the Middle East, the father's U.S. citizenship conferred U.S. citizenship on Adam Alsahli, since he properly registered a declaration at a U.S. embassy or consulate office overseas. That apparently happened with Adam Alsahli because by the age of three, in the year 2002, he was granted an American passport that was repeatedly renewed over the years, sources said.
In 2014, at the height of the civil war inside Syria, Adam and at least his mother moved to the United States. The mother is currently a legal permanent resident who has a pending application for U.S. citizenship, the sources said.
With an American citizen father anchored inside the United States, Adam Alsahli, his siblings, and their mother would not have entered any refugee resettlement pipeline, nor would they have had to apply for asylum, processes that would have required fairly extensive security vetting. Adam Alsahli, then about 15 years old, would have been moved right to the front of the line with almost no security vetting; likely the same would have been true of his mother and siblings.
Little is known at this point about Alsahli's interest in Islamic extremist theology or connections to foreign groups, as the FBI continues an investigation. Nor is it yet known where the family was living prior to entering the United States in 2014.
At about 6:15 a.m. Thursday, Alsahli drove a vehicle up to the gate of the naval air station near Corpus Christi, exited, and began firing shots at military personnel. One round hit the bullet-proof vest of a sailor guarding the gate, which drew a response from other armed sailors, who killed Alsahli.
One well-placed source told CIS that Alsahli drove up to the gate wearing an Arab head-wrap garment and blaring Arabic language music from a vehicle stereo. Arabic-language writings were found inside the vehicle. Although these details could not be independently confirmed, the FBI stated at a press conference later Thursday that Alsahli's attack was "terrorism-related". A LinkedIn page for Adam Alsahi of Corpus Christ contains only one bit of biographical information, which is that he is a "student at Umm Al-Qura University" in Mecca, Saudi Arabia."
Jeff Rainforth is the photographer & news editor for Airman Kolfage's We Build the Wall, Inc.
Like Jeff on Facebook HERE
Follow him on Twitter HERE
Subscribe to Jeff's YouTube channel HERE