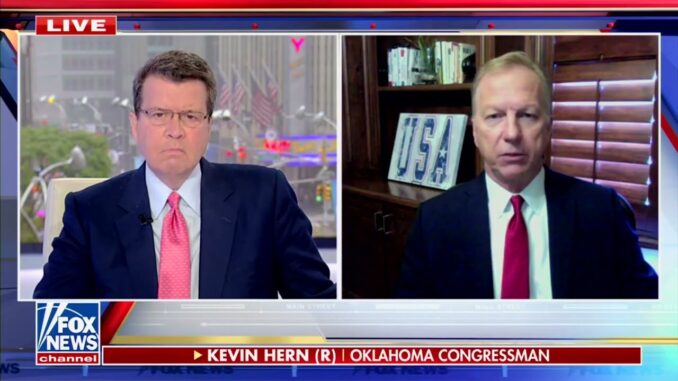 Rep. Kevin Hern of Oklahoma took himself out of the running for speaker of the House over the weekend, leaving fellow Republican Reps. Jim Jordan of Ohio and Steve Scalise of Louisiana to battle it out for the speaker's gavel.  
"I'm going to step aside and let them give their best case why they should be speaker of the House, and we need to get together very quickly so that we can get our Congress back open for business, so we can move this great nation forward," Hern said in an interview Saturday. 
In the wake of the unprecedented ouster last week of then-Speaker Kevin McCarthy, R-Calif., the legislative work of the House of Representatives is at a standstill until a new speaker is elected. 
"Steve and Jim are both former [Republican Study Committee] chairmen and proven leaders," Hern wrote in a letter to his colleagues Saturday, adding: "I look forward to working with our next speaker of the House." 
To secure the nomination for speaker, Jordan or Scalise must first secure a majority of the votes of the 221 House Republicans. After that, the full House would vote, and to win, the nominee will need 217 votes if all 433 current House members are present for the vote. 
The House Republican Conference was set to meet Tuesday evening for a candidates' forum.  
Fox News reported that the full House is expected to vote on the matter Thursday at the earliest. 
Jordan currently serves as chairman of the House Judiciary Committee and of its Subcommittee on the Weaponization of the Federal Government. He is also a member of the House Committee on Oversight and Accountability. 
Scalise is the House majority leader and serves on the Republican Study Committee, the House Pro-Life Caucus, the House Republican Israel Caucus, and the Second Amendment Task Force, among others. 
When asked for whom he would be voting, Hern replied with a message of unity: "I have a preference that we can get to 217 [votes]," adding that House Democrats are not going to support a GOP nominee for speaker.  
"I think it's time that we do everything we can to unify our party," Hern said. "… We need leadership in the world. And that's going to come from the Republican Party and the Congress so that we can get our bills back on the floor."  
Former President Donald Trump endorsed Jordan for speaker in a post on Truth Social on Friday. 
Have an opinion about this article? To sound off, please email [email protected] and we'll consider publishing your edited remarks in our regular "We Hear You" feature. Remember to include the url or headline of the article plus your name and town and/or state.
The post Then There Were 2: What's Next for House Speaker's Race? appeared first on The Daily Signal.