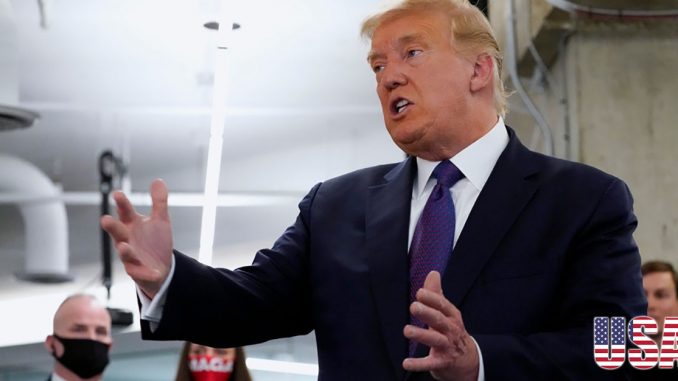 Good for Trump! We demand to see what's going on in the counting process!
"President Trump's campaign is going to court to stop mail-in votes from being counted in Pennsylvania on the grounds that the process lacks transparency. The legal wrangling could delay the outcome of the election for several days.
Trump deputy campaign manager Justin Clark said Wednesday that the president's team is separately filing suit to "stop Democrat election officials from hiding the ballot counting and processing from our Republican poll observers — observers whose only job is to make sure every valid ballot is counted, and counted once." The Biden campaign projects that the former vice president will win Pennsylvania once all of the mail-in ballots are counted, prompting Trump to accuse the Democrats of fraudulently manufacturing votes.
"Bad things are happening in Pennsylvania," Clark said in a lengthy statement. "Democrats are scheming to disenfranchise and dilute Republican votes. President Trump and his team are fighting to put a stop to it."
CHECK OUT THE POPULIST PRESS! DRUDGE TURNED ON US SO THEY ARE TAKING OVER. ENDORSED BY STEVE BANNON!
Those two lawsuits are part of wide-ranging legal action that the Trump campaign is taking in Pennsylvania as the state slowly counts a historic amount of mail-in ballots that skew heavily Democratic. Based on how the Electoral College map appears to be shaking out, Pennsylvania looks to be a must-win state for the president.
Our lawyers have asked for "meaningful access", but what good does that do? The damage has already been done to the integrity of our system, and to the Presidential Election itself. This is what should be discussed!

— Donald J. Trump (@realDonaldTrump) November 4, 2020
The Trump campaign is contesting Pennsylvania rules that allow for late-arriving mail-in ballots to be counted if postmarked by Tuesday and received by Friday. The campaign is also taking legal action to throw out votes that it claims were not accompanied by appropriate voter identification, as it claims is required under federal law.
RELATED: BREAKING: Phoenix-Based Data Firm Says Arizona Will Flip Back To Trump
"The Trump Campaign is also suing to stop Pennsylvania Democrats from breaking the very law that helps America vote — the Help America Vote Act," Clark said. "While HAVA requires that states ensure certain first-time voters provide identification in order to vote, Secretary [Kathy] Boockvar — three days ago — re-wrote Pennsylvania Election Code to abuse her unilateral executive fiat and move the deadline for absentee and mail-in voters to provide missing proof of identification well past the deadline."
Fox News also reported:
"Absentee ballots are still being counted in Pennsylvania and they "could be from Mars as far as we're concerned," Trump ally Rudy Giuliani said Wednesday. Although it was clear before Wednesday that it would take days to count ballots in Pennsylvania. "We have no idea if they really are ballots," he said.
Giuliani railed against alleged inconsistencies in how ballots were being counted, and he said that Republicans were not allowed to closely observe ballot counts."
Excerpted in part from the Washington Examiner.
Facebook is suppressing traffic to the websites of conservative journalists. They can't control our email, though! Don't let Zuckerberg decide what news you get to see! Support independent journalism by signing up for my email newsletters! You will get my footage from leftist riots, border wall construction, and more. Enter your email below! Thank you!