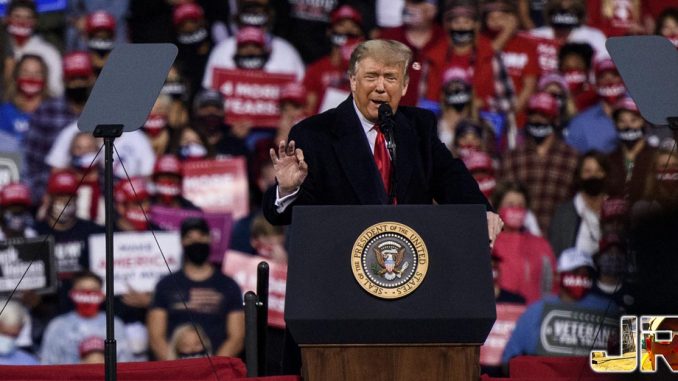 Dems will have a hard time being as nasty to a female SCOTUS nominee like they were to Brett Kavanaugh but I wouldn't put it past them. They surely know they could lose support among women voters if their attacks are as vicious as they were in Kavanaugh's case.
One top contender for the seat is Barbara Lagoa who currently sits on the United States Court of Appeals for the Eleventh Circuit. She was nominated by President Trump & was confirmed by a vote of 80–15. Lagoa was the first Hispanic woman to be appointed as a Justice on the Supreme Court of Florida. Imagine Dems trying to go after a Hispanic woman! Double disaster for them as they could lose support among both demographics in the general election.
Via USA Today:
"WASHINGTON – President Donald Trump said Saturday he will nominate a woman to the Supreme Court next week and that she should be confirmed as soon as possible, even in the midst of election season.
"I will be putting forth a nominee next week – it will be a woman," Trump told supporters at an airport rally in Fayetteville, North Carolina.
President @realDonaldTrump announces that he will be putting forward a woman nominee next week to fill the seat of Justice Ginsburg pic.twitter.com/0gLmoMtAX7

— Team Trump (Text VOTE to 88022) (@TeamTrump) September 19, 2020
RELATED: Leftist Media Figures Threaten Riots If GOP Tries To Fill SCOTUS Seat: "Burn Congress Down"
When Trump told supporters "we're going to fill the seat," the crowd responded with repeated chants of "fill that seat! fill that seat!" – just 24 hours after the announcement of Ginsburg's death.
Crowd in North Carolina chants: "FILL THAT SEAT!" pic.twitter.com/RuOI6vpK9u

— Team Trump (Text VOTE to 88022) (@TeamTrump) September 19, 2020
Trump is looking for a successor for Justice Ruth Bader Ginsburg, one of the court's liberal justices, who died Friday after announcing in July she suffered a recurrence of cancer and that lesions had been found on her liver.
Ginsburg's death touched off an immediate fight over her successor because the vacancy gives Trump and Senate Republicans a rare opportunity to solidify conservative control of the court, perhaps for decades to come.
In urging a quick confirmation, Trump said he disagreed with the statement by Sen. Susan Collins, R-Maine, that the winner of the presidential election should pick the next justice. "We have an obligation," Trump said. "We won. And we have an obligation as the winners to pick who we want."
Trump said he backs a fast-track plan outlined by Senate Majority Leader Mitch McConnell, R-Ky. with whom he discussed the vacancy on Friday. Two people familiar with that call said Trump specifically discussed two potential nominees, both women: Appeals court judges Amy Coney Barrett and Barbara Lagoa.
Hispanic Female Nominee?
Barbara Lagoa from Florida.
Ironically, a Jeb nominee.

When they attack her violently like they did Kavanaugh, Trump wins more of the Hispanic Vote and Female Vote. Neither of which the Dems can risk. pic.twitter.com/GQbbiAz7pP

— ?? 3Days3Nights ?? (@3days3nights) September 19, 2020
"I think it's going to move very quickly," Trump told reporters when discussing the confirmation process.
RELATED: AG Barr Suggested Charging Violent Protesters With Sedition
During the rally that lasted more than 100 minutes, Trump praised Ginsburg as "an inspiration," but spent more time talking about replacing her. He talked about other issues – including the COVID-19 pandemic, trade, and violence in cities – but referred often to the Supreme Court.
"We have plenty of time – there's plenty of time," Trump said, prompting more chants if "fill that seat."
At one point, while mocking Democrat presidential nominee Joe Biden, Trump told his backers: "If I lose to him, I don't know what I'm going to do – I will never speak to you again. You'll never see me again."
Trump said the prospect of putting conservative justices on the Supreme Court helped fuel his victory over Hillary Clinton in 2016. Now Trump, who installed justices Neil Gorsuch and Brett Kavanaugh, hopes a third appointment will boost his chances against Biden in November.
Democrats noted Republicans took a much different approach after the death of Justice Antonin Scalia in 2016.
In that election year, Senate Republicans blocked President Barack Obama's nominee – Merrick Garland – and argued that the winner of the presidential election should pick the new justice.
Democrats said the same standard should apply this time around, and everyone should wait and let the winner of the November contest make the selection.
Josh Schwerin of Priorities USA Action, a political action committee that supports Democratic candidates, predicted that voters will "see right through" the hypocrisy of Trump and the Republicans.
"Senate Republicans who go back on their word and the precedent they set in 2016 will be proving to voters that they care more about getting rid of the Affordable Care Act and coverage of pre-existing conditions, and overturning Roe vs Wade than they do about integrity or morals," he said.
Biden said voters should get the chance to pick the president who will pick the new Supreme Court justice.
"This was the position that the Republican Senate took in 2016, when there were nearly nine months before the election," Biden said. "That is the position the United States Senate must take now, when the election is less than two months away."
A few Republicans agree.
RELATED: Biden Post-Election Ukraine Phone Call LEAKED: Undermined Incoming Trump Admin, Vowed To Keep Backchannel Open
Collins, locked in a tough re-election battle, said in a statement Saturday she would not support a confirmation vote before the election. "In fairness to the American people, who will either be re-electing the President or selecting a new one, the decision on a lifetime appointment to the Supreme Court should be made by a President who is elected on November 3rd," she said.
Massachusetts Gov. Charlie Baker, a moderate Republican, asked Trump and the Senate "to allow the American people to cast their ballots for President before a new justice is nominated or confirmed."
The reason: "The Supreme Court is too important to rush and must be removed from partisan political infighting," Baker said.
It's too early to say how the Supreme Court issue might play out in the presidential race, officials said, especially in a closely contested state like North Carolina.
The Real Clear Politics website average of recent polls in North Carolina gives Biden a bare lead of 0.9 percentage points over Trump, well within the margins of error.
Some analysts favor Trump because there is some question as to how much of a battleground North Carolina really is – Republicans have dominated it in presidential elections over the past four decades.
Since President Ronald Reagan won North Carolina in 1980, Obama in 2008 is the only Democratic presidential candidate to capture the state, noted Jody Baumgartner, political science professor at East Carolina University.
"We hear this every four years – 'Oh, North Carolina is going to be a swing state,'" Baumgartner said. "But North Carolina is never a swing state."
Baumgartner said he doubted the Supreme Court issue would move "the average voter" in North Carolina. He said it could boost get-out-the-vote efforts, but that might "affect both sides equally."
Susan Roberts, a political science professor at Davidson College, said she suspects Ginsburg's passing "will mobilize young college educated women exponentially," helping the Democrats in North Carolina.
The growth of cities and an increase in the number of college-educated voters already gave Biden and the Democrats a fighting chance in the state, Roberts said.
"I think it is as tight as it looks," she said."
Jeff Rainforth is a freelance photographer & news editor covering events on the US/Mexico border, and riots & unrest in Democrat-run cities.
Like Jeff on Facebook HERE
Follow him on Twitter HERE
Subscribe to Jeff's YouTube channel HERE