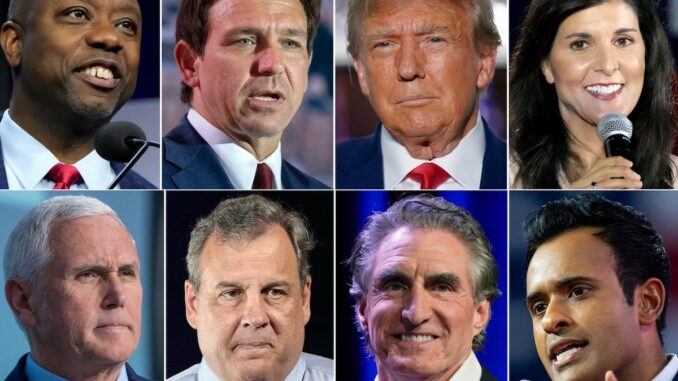 The first Republican presidential debate is fast approaching on Wednesday, when candidates will hope to close the gap on former President Donald Trump and separate from the rest of the pack. In this series, Up For Debate, the Washington Examiner will look at a key issue or policy every day up until debate day and where key candidates stand. Today's story will examine elections.
Whether former President Donald Trump lost the 2020 election and why has served as something of a litmus test for Republican primary candidates navigating the popularity of the former president.
Those questions have become thornier, thanks to a pair of indictments facing Trump and his associates over their conduct after the 2020 race.
For most candidates, the answers have reflected a careful balance between maintaining general election viability with moderates and primary election credibility with conservatives.
Here's where some of the top candidates stand.
Donald Trump
Unsurprisingly, Trump remains committed to the false claim that cheating cost him a second term.
He has protested the election results in prolific posts on his Truth Social platform and during interviews and speeches.
During a town hall event with Fox News last month, Trump briefly appeared to agree with the premise that he should embrace early voting and ballot harvesting, both of which he opposed during his 2020 reelection bid, but he quickly shifted to claims that election workers "create phony ballots," rendering other tactical considerations moot.
However, in July, Trump recorded a video for the Republican National Committee urging voters to cast their ballots early, appearing to support a broader push within the party to utilize legal voting tools more aggressively in future elections.
Ron DeSantis
DeSantis has stopped short of endorsing Trump's claims of a stolen election without defending the election itself.
"Of course he lost … Joe Biden is the president," DeSantis told NBC News on Aug. 7. "But the issue is, I think, what people in the media and elsewhere — they want to act like somehow, this was just, like, the perfect election."
"I don't think it was a good-run election, but I also think Republicans didn't fight back. You've got to fight back when that is happening," DeSantis added.
DeSantis also told an Iowa voter in June that he would push to expand ballot harvesting, noting that to do otherwise would be to "fight with one hand behind my back."
Many Republicans have questioned whether the GOP's reluctance to engage in ballot harvesting, the legal practice of allowing a third party to collect ballots from multiple other voters, hurt the party in 2020 and the 2022 midterm elections.
Tim Scott
The South Carolina senator has, like DeSantis, acknowledged Republican voters' concerns about how the 2020 election unfolded.
"I do not believe the election was stolen," Scott said during a July 14 town hall event in Iowa, according to NBC News. "There was cheating, but was the election stolen? There's a difference. I think [in] every election there's cheating."
Scott, a proponent of voter ID laws, supported voting by mail before the 2020 election, encouraging voters not to be wary of the practice in the fall of 2020.
Nikki Haley 
A former Trump administration Cabinet member, Haley made headlines in 2020 when she came out forcefully against Trump's election denial and his rhetoric in the lead-up to the Jan. 6 riots.
"He went down a path he shouldn't have, and we shouldn't have followed him, and we shouldn't have listened to him. And we can't let that ever happen again," she told Politico just days after the violence.
Her recent statements have focused on restoring the public's trust in the electoral system rather than bashing Trump.
"I think it's important that voters want to have election integrity. That's the biggest thing," Haley said during a CNN town hall event on June 4."When you look at what happened, you know, you had mail-out balloting that was happening. We know that there was harvesting that was happening. And then you had secretaries of state that did things without approval from their legislatures. Those are pretty serious."
Haley praised state legislatures that have passed election integrity laws since 2020 to reverse some of the pandemic-era policies that lent to a sense of distrust among some voters.
In November, Haley pushed for her party to embrace early-voting tactics as fully as Democrats have. She blamed a failure to do so for causing Republicans to fall short of expectations during the midterm elections.
"We were completely outplayed electorally," she said during a Republican Jewish Coalition event. "The Democrats did a full-court press to vote early. We sat on our hands."
Vivek Ramaswamy 
A successful technology entrepreneur, Ramaswamy has blamed technology companies for skewing the results of the 2020 election.
"The 2020 election was stolen principally by Big Tech," Ramaswamy told conservative commentator Candace Owens on Aug. 11. "The Google search algorithms that suppressed actual stories that you could have read on Donald Trump, Hunter Biden laptop story — suppressed on the eve of an election. There's definitive data showing that that would have changed the outcome of the election."
In a break with rivals, Ramaswamy has proposed raising the voting age to 25 unless people younger than that complete six months of military or first responder service or otherwise pass the U.S. citizenship test.
Ramaswamy has said the change, which would require a constitutional amendment and therefore is a lofty goal, would give young people a greater appreciation for the privilege of the right to vote.
On whether he would have blocked Trump's efforts to overturn the 2020 election results, Ramaswamy has demurred, arguing he would never have allowed the situation to reach the boiling point it did on Jan. 6.
Others 
Former Vice President Mike Pence has taken one of the strongest stances against Trump's 2020 rhetoric, arguing repeatedly that the election was not stolen.
The potential for Pence to serve as a witness against Trump in the former president's trial has pushed Pence to defend his actions on Jan. 6 more forcefully. Pence rejected Trump's demands that he use his position as the vice president to upend the certification of the results at the Capitol that day.