My good friend & former boss, Brian Kolfage, joined the Air Force after almost 3000 Americans were killed in the September 11, 2001 terror attacks that also destroyed the Twin Towers in New York City.
On September 11th, 2004, exactly 3 years to the day since the 9/11/01 attacks, a 107 mm rocket landed feet from Airman Kolfage. He lost both of his legs just below the hip and his right hand. Doctors didn't expect him to live or walk again, but he did.
After almost a year recovering at Walter Reed Army Medical Center, Kolfage walked out of the facility.
After graduating from college as an architect, Kolfage became interested in news publishing and began managing pages on Facebook for news websites. He also started his own coffee company, Military Grade Coffee.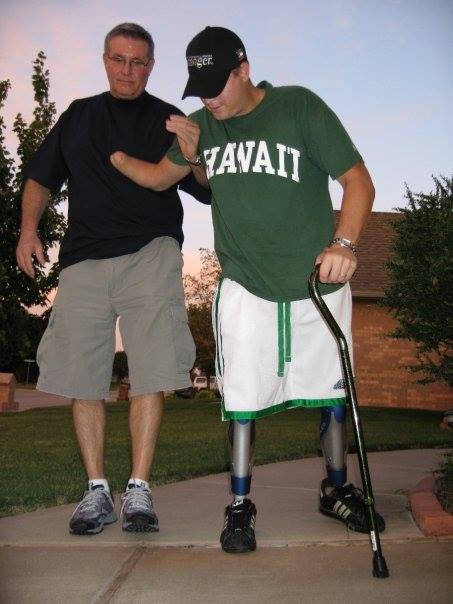 Airman Kolfage ran the Right Wing News (RWN) Facebook page this year & had been involved with the brand for several years. Kolfage invested $315,000 to grow RWN and other brands on Facebook. Then, right before the midterm elections, Zuckerberg & Facebook decided they couldn't allow Brian's popular, conservative RWN page & several others Brian managed to continue to exist. They shut down all of his pages, including his coffee company, robbing him of the $315,000 he had invested in them so he could provide for his family. Kolfage then started an organization to fight for free speech and will be suing Zuckerberg & Facebook soon.
I came home from war with 1 limb remaining. Built multiple successful biz's utilizing @Facebook. I could have soaked up free money and did nothing with my life. I worked hard, built a coffee company from nothing & a news site- Facebook stole it all after I gave them $300,000 pic.twitter.com/rzLDRBeDm8

— Brian Kolfage (@BrianKolfage) November 2, 2018
Met with very powerful law firm this week in DC. @facebook is about to regret attacking my companies, including @MilGradeCoffee. The regulation train is coming their way and government leaders will be backing our plan. @RyanAFournier @lucasnolan_ @EmeraldRobinson @brianamerige

— Brian Kolfage (@BrianKolfage) December 13, 2018
Despite having all of those things going on, Airman Kolfage is now raising money to build Trump's wall. Kolfage literally began fundraising to build the wall on Monday, and in a few hours had raised over $22,000. On Tuesday, over $300,000 had been raised. On Wednesday, over $2 million had been contributed, and by Thursday morning, $5.4 million had been raised for the wall as word spread of the wounded veteran's effort.
DON'T STOP SHARING THIS UNTIL AIRMAN KOLFAGE REACHES $1 BILLION FOR THE WALL!!
This is from Kolfage's fundraising page:
"My name is Brian Kolfage, I have a verified blue check facebook page as a public figure and I'm a triple amputee veteran.
Any questions about this message on my facebook or email me at [email protected].
Like a majority of Americans, we elected President Donald J Trump to Make America Great Again. President Trump's main campaign promise was to BUILD THE WALL. And as he's followed through on just about every promise so far, this wall project needs to be completed still.
As a veteran who has given so much, 3 limbs, I feel deeply invested to this nation to ensure future generations have everything we have today. Too many Americans have been murdered by illegal aliens and too many illegals are taking advantage of the United States taxpayers with no means of ever contributing to our society.
I have grandparents who immigrated to America legally, they did it the correct way and it's time we uphold our laws, and get this wall BUILT! It's up to Americans to help out and pitch in to get this project rolling.
"If the 63 million people who voted for Trump each pledge $80, we can build the wall." That equates to roughly 5Billion Dollars, even if we get half, that's half the wall. We can do this.
Democrats are going to stall this project by every means possible and play political games to ensure President Trump doesn't get his victory. They'd rather see President Trump fail than see America succeed. However, if we can fund a large portion of this wall, it will jumpstart things and will be less money Trump has to secure from our politicians.
This won't be easy, but it's our duty as citizens. This needs to be shared every single day by each of you on social media. We can do it, and we can help President Trump make America safe again!
Where the money will go? We are reaching out to the Trump Administration to secure a point of contact where all funds can be sent to. When we get this information secured we will update.
100% of your donations will go to the Trump Wall… If for ANY reason we don't reach our goal we will refund your donation.
We are working with a law firm on a legal document that the government will sign and be held to only using the funds for the border wall itself, nothing else. We will hold all funds and not release a single penny until we have all legal aspects covered to ensure our money goes only to the wall.
LET'S GET THIS WALL BUILT!
Brian Kolfage Jr"
Airman Kolfage has given so much for our country and overcome so much, yet now he is giving even more, to help keep us safe. I worked with Brian for three years as his news editor before Zuckerberg shut him down & I can attest he is an amazing patriot. Let's give him a hand & help build Trump's wall!
DON'T STOP SHARING THIS UNTIL AIRMAN KOLFAGE REACHES $1 BILLION FOR THE WALL!!