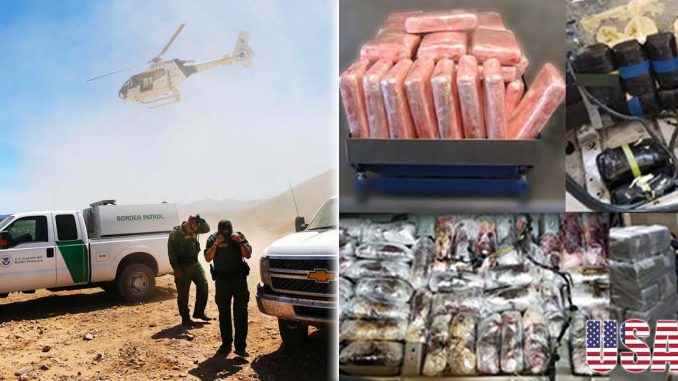 The cartels are smuggling massive amounts of hard narcotics into our country every day. Border Patrol & CBP are on the front lines protecting American citizens from these dangerous poisons. Working with We Build the Wall, I cover the stories of what's going on at our border with Mexico. According to Border Patrol agents I spoke to at our first border wall build, typically, cartels smuggle hard narcotics such as meth into the country by vehicle and through border checkpoints. Marijuana is the drug that is more frequently brought in by individuals on foot. Apparently, cartels are using marijuana smuggling routes to smuggle meth in now, possibly because of the major busts at checkpoints. At our first wall in Sunland Park, NM, we cut off about 19 smuggling paths. In the video below I show one of the smuggling paths that our wall cut off.
Like my page on Facebook HERE for the latest pictures, videos & inside news on Airman Kolfage's border wall campaign.
"U.S. Customs and Border Protection officers at ports of entry along the California border with Mexico seized more than 43,000 pounds of drugs, with a street value of almost $92 million in the month of June.
CBP officers at the six land ports of entry thwarted numerous attempts to smuggle 34,685 lbs. of marijuana, 7,661 pounds of methamphetamine, 635 pounds of cocaine, 166 pounds of heroin, and 165 pounds of fentanyl. The drugs were strapped to smugglers' bodies and were hidden in various areas of vehicles such as the gas tank, trunk, seats and quarter panels.
"These are impressive results and no matter what is occurring in the country, CBP officers remain vigilant," said San Diego CBP Director of Field Operations, Pete Flores. "CBP officers' determination and instincts led to the confiscation of these drugs to keep our country safe."
I can't wait to build our next wall segment. Looks like we are going to build in California and take it right to their jugular! Let's go #AntifaTerrorists come down and dance with us@WeBuildtheWall @michellemalkin @charliekirk11 @DonaldJTrumpJr @RyanAFournier #webuildthewall

— Brian Kolfage (@BrianKolfage) June 11, 2020
Some significant interceptions are listed below:
On June 4 at the Otay Mesa cargo Port of Entry, CBP officers seized 11,000 lbs. of marijuana in a shipment of limes. There were 468 large wrapped packages of marijuana.
On June 8 at the Andrade Port of Entry, CBP officers intercepted 43 pounds of fentanyl pills and methamphetamine hidden in the quarter panels and trunk of a vehicle.
U.S. Border Patrol agents in Tucson Sector arrested five suspected narcotics smugglers and seized more than 145 pounds of methamphetamine southwest of Sells, Monday, June 8th.
Agents were alerted to several people Monday morning, carrying large packs on a remote trail in the Mesquite Mountain range. Agents on dirt bikes as well as a canine team, located the packs, which contained more than 145 pounds of meth, and arrested five Honduran nationals.
U.S. Customs and Border Protection, Office of Field Operations (OFO) at the Pharr International Bridge cargo facility intercepted alleged liquid methamphetamine worth $3,108,000 concealed within a commercial truck arriving from Mexico with merchandise.
CBP officers assigned to the Pharr-Reynosa International Bridge cargo facility on June 19, 2020 referred a truck with a commercial shipment of automotive parts arriving from Mexico for further inspection. Officers conducting the secondary inspection conducted a thorough examination which ultimately resulted in the discovery of 155.5 pounds (70.5 kgs) of alleged liquid methamphetamine concealed within the truck's fuel tanks.
At the Calexico West Port of Entry on June 24, CBP officers discovered 134 pounds, in 115 wrapped packages of methamphetamine in the doors, quarter panels and gas tank of a vehicle.
Also at the Otay Mesa cargo facility on June 17, CBP officers seized almost 21,000 pounds of marijuana in a shipment of electronics.
On June 24, CBP officers assigned to the San Sedro Port of Entry stopped 104 pounds of cocaine hidden in a compartment behind the backseats of a vehicle.
On June 25, U.S. Customs and Border Protection (CBP) Officers at the Port of Nogales seized 260 pounds of hard narcotics with an estimated street value of more than $1,400,000.00.
Thursday afternoon, a 34-year-old U.S. citizen attempted to make entry into the United States through the Port of Nogales in her pickup truck. She was referred for further inspection. While in secondary, CBP officers conducted a thorough vehicle inspection and noticed anomalies throughout.
After an alert by a CBP narcotics detection canine to a scent it is trained to detect and confirmation of anomalies through a non-intrusive inspection, officers discovered a total of 209 packages concealed throughout the cab, truck bed, tailgate and spare tire. The drugs were determined to be 51 pounds of fentanyl tablets (over 211,000 tablets), 91 pounds of heroin, 113 pounds of methamphetamine and nearly six pounds of cocaine."
We Build the Wall Project Two Preview

Hey, everyone. Airman Kolfage gave me the go-ahead to begin producing videos I shot of our investment at border wall project 2. Hope to have the first one out in a few days. Like my page Jeff Rainforth to see it first. Also, Foreman Mike called me yesterday to see how I was doing. He's doing great sheltering at home. Can't wait to be back on the border with him. You can donate to projects 3 & 4 on our site https://webuildthewall.us/. We'll be out there soon after this virus thing is over! Thanks again for your continued support!

Posted by Jeff Rainforth on Wednesday, April 8, 2020
Jeff Rainforth is the photographer & news editor for Airman Kolfage's We Build the Wall, Inc.
Like Jeff on Facebook HERE
Follow him on Twitter HERE
Subscribe to Jeff's YouTube channel HERE