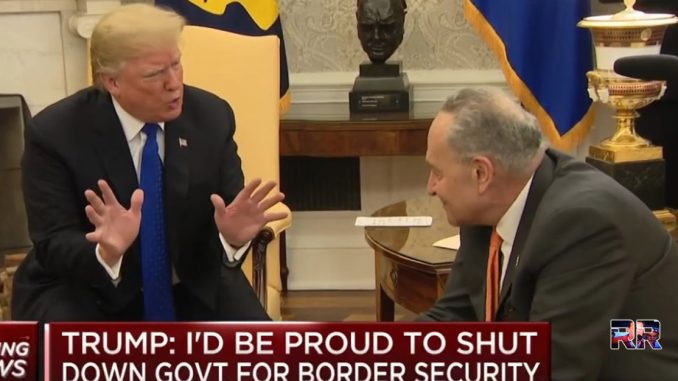 President Trump just shredded Chuck Schumer and Nancy Pelosi on national television over funding for the border wall & border security. Chuck & Nancy tried their best to bully Trump in tandem to make it seem like they were in control, but the president wasn't having it. He came straight out & said that the wall is part of border security, and that he would shut down the government without funding for it or allowing the military to build it.
WATCH: (More video below)
"I am proud" to shutdown the government for border security, Trump tells Pelosi and Schumer in heated Oval Office meeting https://t.co/Mbe5gbTu9N pic.twitter.com/hwBEzAwLSR

— Bloomberg (@business) December 11, 2018
Fox News reported:
"President Trump clashed Tuesday with Democratic leaders Chuck Schumer and Nancy Pelosi with the cameras rolling in the Oval Office, as the president insisted he's willing to let the government shut down if Congress doesn't approve funding for his U.S.-Mexico border wall.
"If we don't have border security, we'll shut down the government," Trump said.
TRUMP JUST TOOK SCHUMER AND PELOSI TO SCHOOL!!!! #BOSS

— Jordan Rachel (@TheJordanRachel) December 11, 2018
The highly anticipated sit-down quickly escalated, in public, as Trump allowed the press to attend the start of it. Trump began by repeatedly telling Pelosi, the House Democratic leader, that what she's proposing would not pass the Senate.
Schumer then raised his voice as he claimed the Senate could pass measures to keep the government running regardless.
"If it's not good [on] border security, I won't take it," Trump shot back.
Great job sticking to your guns on border security, Mr. President!

— Lindsey Graham (@LindseyGrahamSC) December 11, 2018
Pelosi and Schumer repeatedly urged the president to take the meeting private, but not before he declared he's "proud to shut down the government for border security" and will "take the mantle."
Pelosi noted, "this has spiraled downwards."
The explosive meeting with Schumer, the Senate minority leader, and Pelosi came hours after Trump threatened Tuesday to have the military "build the remaining sections" of the wall if Congress doesn't deliver the funding. Vice President Mike Pence was also in attendance.
As Trump began discussing the details of the negotiations, Pelosi said, "I don't think you should have a debate in front of the press." At another point, Schumer said: "Let's debate in private."
Trump and Schumer also exchanged zingers over recent midterm elections.
"Elections have consequences, Mr. President," Schumer said.
"And that's why the country is doing so well," the president shot back.
Schumer jabbed Trump over boasting that Republicans kept control of the Senate.
"When a president brags that he's won Indiana and North Dakota, he's in real trouble," Schumer said.
"We did!" Trump replied. "We did win."
Watch the full video:
Share if you're proud Trump stood up to Chuck & Nancy for the Wall!