President Trump has been on a tear lately. He's going after his detractors hard, and it's awesome to watch.
Earlier today he retweeted a video of Hillary making a joke about black people. If Trump or any conservative had made the joke, they'd surely be labeled "racist" by the left. Hillary got away with it though, probably because she carries hot sauce in her purse.
Before that, though, he went after the Mueller witch hunt & Hillary's deleted emails.
In the second presidential debate of 2016 Hillary said, "It's just awfully good that someone with a temperament like Donald Trump isn't in control of the law in our country." To which Trump replied: "Because you'd be in jail." It was mic drop moment that had most in the audience cheering. Even Hillary had a hard time not laughing because, well, Trump is hilarious.
Apparently, Trump still wants Clinton in jail.
The Daily Caller reported:
"President Donald Trump retweeted a meme from a fan account showing Deputy Attorney General Rod Rosenstein and former President Barack Obama behind bars, in an active Twitter spree Wednesday morning.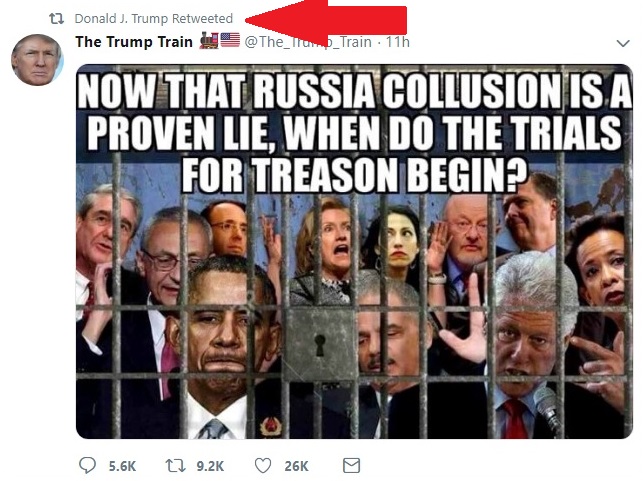 — The Trump Train ???????????? (@The_Trump_Train) November 28, 2018
The meme also showed special counsel Robert Mueller, former Hillary Clinton campaign chairman John Podesta, Clinton herself, her aide Huma Abedin, former FBI Director James Comey, former Director of National Intelligence James Clapper, former President Bill Clinton, and former Attorney General Loretta Lynch.
All of the figures included in the meme have played a role in either the special counsel probe or in scandals that embroiled the Clinton campaign throughout the 2016 presidential election.
Rosenstein's inclusion in the meme is particularly noteworthy because he currently serves as Trump's own deputy attorney general. Rosenstein appointed Mueller nearly a year and a half earlier and oversaw the investigation for almost its entire length. The deputy attorney general no longer is in charge of the probe after Trump fired former Attorney General Jeff Sessions.
The president's retweet of the meme followed an angry missive on the progress of special counsel Robert Mueller's investigation, saying:
While the disgusting Fake News is doing everything within their power not to report it that way, at least 3 major players are intimating that the Angry Mueller Gang of Dems is viciously telling witnesses to lie about facts & they will get relief. This is our Joseph McCarthy Era!

— Donald J. Trump (@realDonaldTrump) November 28, 2018
Trump has also tweeted his incense that Mueller's team is not focusing on the allegedly illegal dealings of Clinton and her associates, noting:
The Mueller Witch Hunt is a total disgrace. They are looking at supposedly stolen Crooked Hillary Clinton Emails (even though they don't want to look at the DNC Server), but have no interest in the Emails that Hillary DELETED & acid washed AFTER getting a Congressional Subpoena!

— Donald J. Trump (@realDonaldTrump) November 28, 2018
….The Fake News Media builds Bob Mueller up as a Saint, when in actuality he is the exact opposite. He is doing TREMENDOUS damage to our Criminal Justice System, where he is only looking at one side and not the other. Heroes will come of this, and it won't be Mueller and his…

— Donald J. Trump (@realDonaldTrump) November 27, 2018
….terrible Gang of Angry Democrats. Look at their past, and look where they come from. The now $30,000,000 Witch Hunt continues and they've got nothing but ruined lives. Where is the Server? Let these terrible people go back to the Clinton Foundation and "Justice" Department!

— Donald J. Trump (@realDonaldTrump) November 27, 2018
A few libs weren't too happy with Trump for Retweeting the message.
You know… this is WHAT DICTATORS DO!!! Dictators always get around to trying to incarcerate anyone who opposes them. Well guess what Donnie…. you'd have to incarcerate over 70% of the nation!

— Pam Maguire (@budgly) November 28, 2018
Every time we think "SURELY you can't get worse" you find new depths of ignominy.

You are in no way, shape or form – by any stretch of the wildest imagination – in this or any other universe – even remotely Presidential.

You will go down in history as America's biggest mistake.

— Sarcasam (@Smafa) November 28, 2018
I guess they're still "with her."
Here's the awesome moment when Trump told Hillary he'd send her to the pokey if he was in charge.
Share this if you want Trump to "Lock her Up!"
Trump Found Out About Hillary's Racist Joke & Now He's Sharing It Everywhere – WATCH
Navy SEAL Who Killed Bin Laden Just Gave Migrants Sage Advice & It's Hilarious
BREAKING: Melania Just Asked For The Help Of All Americans After Tragedy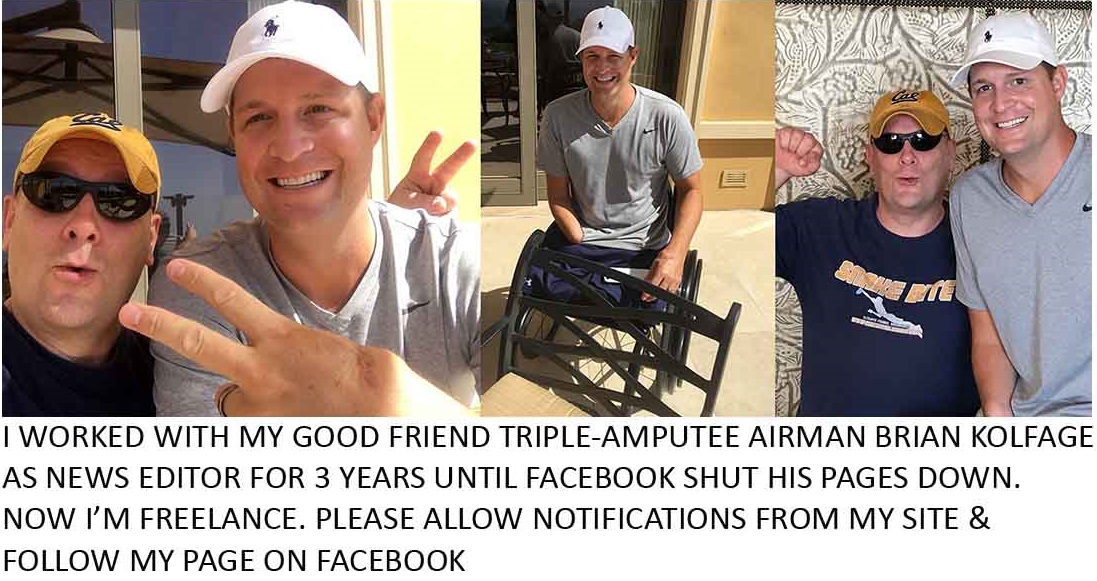 Follow Jeff on Facebook for the latest news! MAGA!