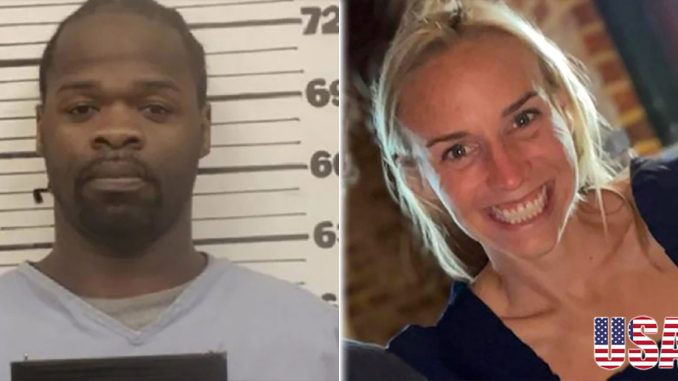 Update 9-7-22: Twitter sent me a message this morning after I appealed the decision to suspend me. They said that I threatened a murderer because I said he should be punished so my suspension will stand.
Many of us are just hearing about the horrific crime involving schoolteacher Eliza Fletcher in Memphis, Tennessee.
Memphis police announced Tuesday morning that Fletcher's body had been found.
The body of Fletcher, 34, was discovered Monday, approximately seven miles from where she was reportedly kidnapped. Surveillance video captured the heinous crime.
"It was found within walking distance of where Fletcher's alleged kidnapper, 38-year-old Cleotha Abston, was believed to have been seen cleaning a GMC Terrain hours after Fletcher was kidnapped, according to police," People magazine reported.
Abston now faces charges of first-degree murder and first-degree murder in perpetration of kidnapping, police announced.
There has been no announcement as to the cause of death for Fletcher.
"Authorities say Fletcher was forced into a dark-colored SUV near the University of Memphis at about 4:20 a.m. on Friday in the area of Central Avenue and Zach Curlin Street," People continued.
According to a press release from the Memphis Police Department, Abston was arrested and initially charged with especially aggravated kidnapping and tampering with evidence in connection with Fletcher's disappearance.
Fletcher was a teacher at St. Mary's Episcopal School, and she regularly went running in the area of the university. She is also the granddaughter of the late billionaire Joseph "Joe" Orgill III, a Memphis hardware businessman.
God bless her soul. Video showing Eliza Fletcher singing to students at St. Mary's Episcopal School. Clearly she was a very kind and loving soul #lizafletcher #ElizaFletcher #Memphis pic.twitter.com/eTZ9QQZ0s8

— That Guy Shane (@ProfanityNewz) September 6, 2022
I tweeted out that if we want to stop the rape and murder of women, we need to light criminals on fire.
Another person commented that the suspected murderer should be "fried" since Tennessee has the death penalty.
Cleotha Abston charged with 1st degree murder after Eliza Fletcher was found raped, dismembered, and tossed in a dumpster when she went missing during her 4:30am jog.

Tennessee is the only state in the country that still has the electric chair.

Fry him up!#ElizaFletcher pic.twitter.com/C1HfPjPUd4

— Joseph Morris on YouTube 🇺🇸 (@JosephMorrisYT) September 6, 2022
I responded to the person repeating that we should literally light him on fire. I said that a person suspected of raping, murdering, and dismembering a woman should be lit on fire.
Twitter suspended me for that tweet.
This means that Twitter supports rapists and murderers and doesn't want them to be punished.
If you're on Twitter send a tweet to support and demand that my account @Bring_Back_Phil be reinstated.
I use that account to get out news when I'm filming like when I was the videographer for the March for Trump bus tour that culminated on January 6th in DC.
YouTube just BANNED Right Side Broadcasting from covering the March for Trump tour that is heading to DC because speakers are criticizing the election. TOTAL communist censorship! I'm documenting the tour & am on one of the buses. Will try to get out more vids. HELP SPREAD THIS! pic.twitter.com/q7WJP5AFP8

— Jeff Rainforth 🏄‍♂️💥🇺🇸 (@Bring_Back_Phil) December 9, 2020
I also used it while I was the videographer for We Build the Wall.
Video I shot on the day we were placing the final bollard section at the top of Airman Kolfage's border wall we built. Walked bottom to top. 100 degrees out. Was on the mountain 15 hours that day. ☀️👨‍🚒📽️#WeBuildTheWall 🇺🇸 https://t.co/YeEYUm4Dzz pic.twitter.com/zUd5JiEsJx

— Jeff Rainforth 🏄‍♂️💥🇺🇸 (@Bring_Back_Phil) August 25, 2019
Follow me on Facebook HERE for videos from my upcoming border tour.
The Twitter warning stated:
What happened?
We have determined that this account violated the Twitter Rules. Specifically, for: 1 Violating our rules against abuse and harassment. You may not engage in the targeted harassment of someone, or incite other people to do so. This includes wishing or hoping that someone experiences physical harm. As a result, we've temporarily limited some of your account features. While in this state, you can still browse Twitter, but you're limited to only sending Direct Messages to your followers – no Tweets, Retweets, Fleets, follows, or likes. Learn more.
Your account will be restored to full functionality in: 12 hours and O minutes. You can start your countdown and continue to Twitter once you:
• Delete the content that violates our Rules
• 1 Tweet
I was asked by the platform to delete the tweet or appeal.
I appealed.
It's interesting to note that I wasn't suspended for my first tweet saying that murderers and rapists should be lit on fire. I was only suspended when I responded to another user with that sentiment. Which means someone most likely reported me. Probably a defund the police freak.
I created the Bring Back Phil Twitter account in December of 2013 when Phil Robertson was taken off the show Duck Dynasty for some of his Christian remarks. Some of the posts went viral at the time.
Bring Phil Robertson Back to Duck Dynasty or we won't be watching!#BringBackPhil pic.twitter.com/P9A2ZTUux2

— Jeff Rainforth 🏄‍♂️💥🇺🇸 (@Bring_Back_Phil) December 19, 2013
By the way, I do think lighting murderers and rapists on fire would deter others from committing the same crimes.