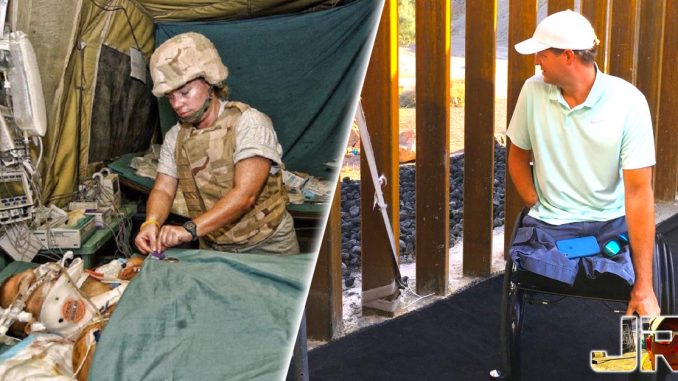 This is breaking news. Triple-amputee vet Brian Kolfage just texted me saying that a liberal judge sentenced him to 51 months in prison for being paid to run the border wall construction non-profit, We Build the Wall (WBTW) which he founded.
We Build the Wall made history by constructing the nation's first-ever privately-funded border wall on private property. The American people donated the funds for the construction. WBTW donated to a second wall in Texas.
Kolfage joined the Air Force after almost 3000 Americans were killed in the September 11, 2001 terror attacks that also destroyed the Twin Towers in New York City.
On September 11th, 2004, exactly 3 years to the day since the 9/11/01 attacks, a 107 mm rocket landed feet from Airman Kolfage. He lost both of his legs just below the hip and his right hand. Doctors didn't expect him to live or walk again, but he did.
After almost a year of recovering at Walter Reed Army Medical Center, Kolfage walked out of the facility.
Late in 2018, Kolfage asked me to write articles about raising funds to give to the government to build border walls. I did and they immediately went viral as he shared them on his massive social media pages.
As I reported at the time, "Airman Kolfage is now raising money to build Trump's wall. Kolfage literally began fundraising to build the wall on Monday, and in a few hours had raised over $22,000. On Tuesday, over $300,000 had been raised. On Wednesday, over $2 million had been contributed, and by Thursday morning, $5.4 million had been raised for the wall as word spread of the wounded veteran's effort."
Part of Kolfage's message at the time was:
"As a veteran who has given so much, 3 limbs, I feel deeply invested to this nation to ensure future generations have everything we have today. Too many Americans have been murdered by illegal aliens and too many illegals are taking advantage of the United States taxpayers with no means of ever contributing to our society."
"I have grandparents who immigrated to America legally, they did it the correct way and it's time we uphold our laws, and get this wall BUILT! It's up to Americans to help out and pitch in to get this project rolling."
The far-left Southern District of New York was on a witch hunt to get former President Trump's top White House advisor, Steve Bannon, who was involved with WBTW.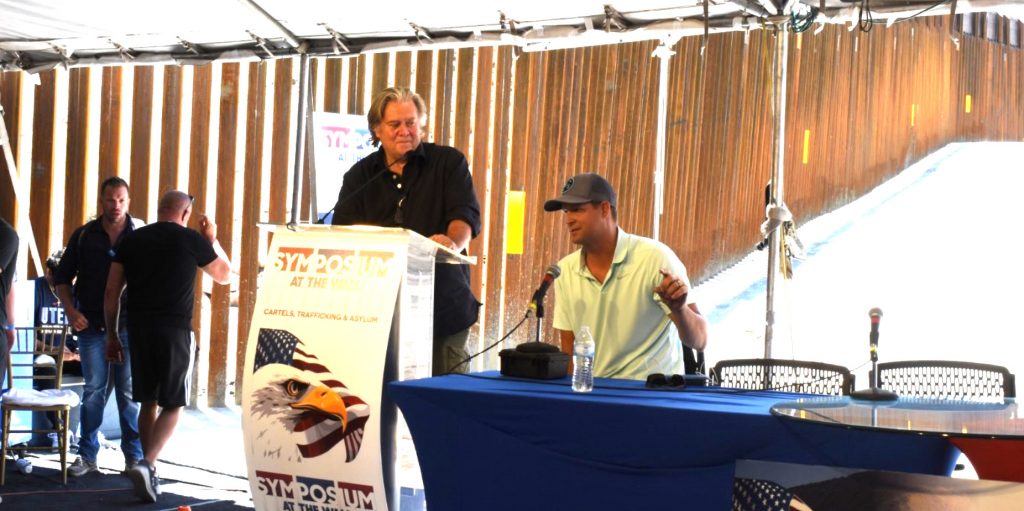 In August of 2020, Kolfage was arrested by armed agents from the New York United States Postal Inspection Service. He was accused of receiving payments for his work after initially stating that he would take no salary. But that was when he was going to just send the money to the government. He ended up overseeing a massive operation to build border walls. It was more than full-time work. I know because I was the documentarian/videographer.
This is what a socialist government does to citizens who take the initiative to do the job it won't because those involved are systematically destroying the country on purpose. THIS ISN'T THE END!
Here's a video montage I shot and compiled of Kolfage's first border wall being constructed. I filmed construction from start to finish and worked alongside Foreman Mike.