In March of 2021, I was contacted by the founder of Women Fighting for America, Christie Hutcherson.
Hutcherson got my contact info from Amy Kremer, the co-founder of Women for America First. Kremer had hired me to film the March for Trump cross-country bus tour which culminated at the Capitol on January 6th, 2021. I was on the road with the team for about 6-weeks.
Hutcherson wanted to hire me to film a 3-state border project. She asked me what my going rate was and I gave her a deal at $1000 per week plus she (or WFFA) would pay for all flights, taxis, food, accommodations, etc. This is standard for freelance videographers who travel at a client's request.
We spoke on the phone and she agreed to all the terms I laid out. It was a verbal contract. Over my time as a self-employed videographer, and working for conservatives, sometimes there are written contracts, sometimes verbal. I've never had a problem with either in terms of being paid.
She stiffed me over $1500 and has refused to pay since then.
I worked with Steve Bannon and triple-amputee vet Brian Kolfage as the videographer and news editor for We Build the Wall for about two years. Bannon and Kolfage sent me all over the world and the US to film. I never had a problem getting paid. That job had a written contract for a year, and the second year was verbal.
I worked on the March for Trump tour with a verbal contract. I was promptly paid after the gig was up.
And December 2021 I was contracted by America's Voice News to film on the border with Ben Bergquam. There was a written contract. I was paid promptly by AFN. My flight expenses went over and they even paid that. That's the sign of an honest company.
It wasn't the same with Hutcherson, though.
The weeklong job was near the end of March. I got less than half of what I was owed 2.5 months later on June 7th.
She responded that she needed all of my receipts, which I had emailed two months prior. She said she didn't get the email. Yeah, right.
Below is the email I sent on April 12th with the receipts attached. I was still editing videos for Christy after the trip and I sent everything when I was done. She said she didn't get the email.
Christy stopped all communication shortly after and would not respond to texts or emails.
I forwarded the same email several times to Hutcherson and got no response. I sent the final one in Dec. of 2021.
After all was said and done, the total owed to me for wages and my out of pocket expenses was $3044.49. She paid me $1500, which means I PAID TO GO ON THAT TRIP. And I do NOT work for free.
I let the security guys who Hutcherson paid to go on the trip about it. One of them informed me she stiffed another security contractor, also. Below is the text conversation we had where other big news also dropped.
Hutcherson told me she was married at the time I was contracted. While I was on the trip, I saw a few things that didn't make sense. Like one time I went to a security guy's room (Laurence's), and she came out with her hair mussed up. It wasn't my business so I wasn't going to say anything.
In December of 2021 I was told by the other security contractor, Jerry, that Hutcherson was getting divorced and that she and Laurence were "a thing."
These are of course allegations, but, for Hutcherson, who calls herself a "Christian" and often prays on her videos, to be ripping people off and possibly committing adultery, it seems a bit disingenuous.
While working on the border trip, the days were extremely long between driving, and filming, and editing videos. On the final two days, I had two hours of sleep between about 30 hours of work in over 100-degree weather. Had I known before that the job would be unprofessional and sketchy, I would've charged double what I did.
Here are a few of the photos I took (with some video screenshots).
Our security driver, Laurence (on the left), got lost out where Border Patrol Agent Brian Terry was killed. We were trying to find the camp of a local militia that patrols the border. We ended up with two flat tires 60 miles from nowhere with no cell service. We drove on metal rims in order to get out and be safe from cartel members. Below is a photo of the tow truck that met us around 9:30 at night near Nogales, Arizona.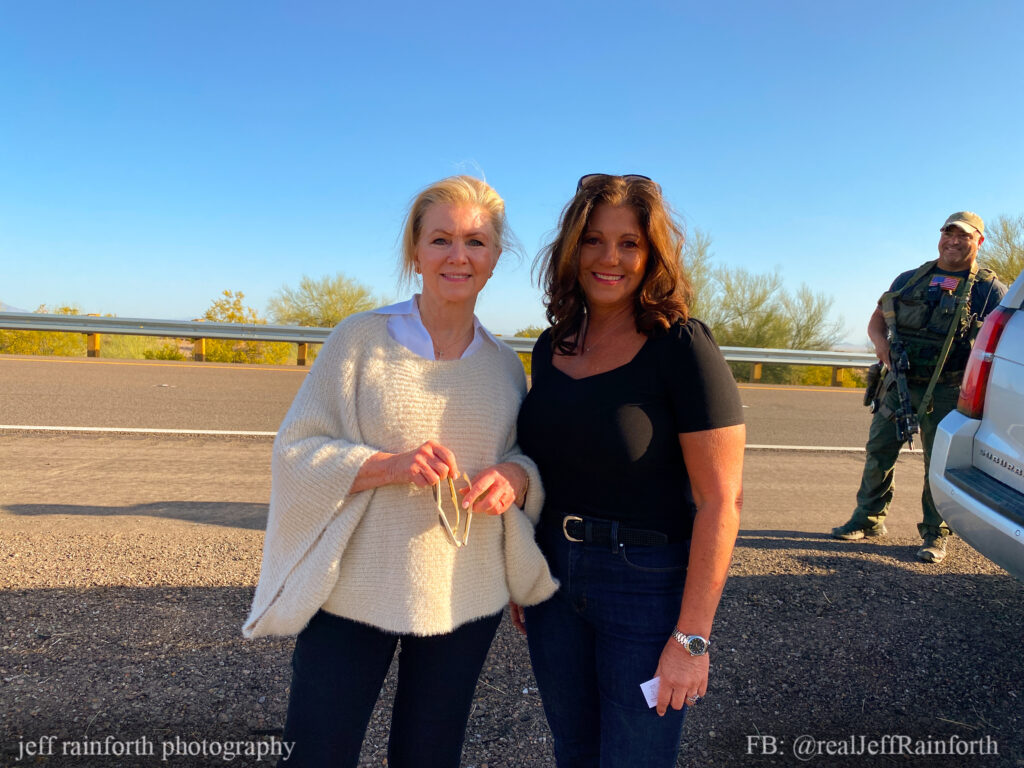 Be careful who you give money to. Not everyone is honest. There are con artists/grifters out there. For freelance videographers, our equipment isn't cheap, and we deserve to be paid and not ripped off like I was. Here's Hutcherson's Facebook page where she's still up to her stuff.
Check out my new ad-free, reader-supported Substack for my live border & other reporting.