First Lady Melania Trump is making the rounds in Washington. On Friday, she stunned everyone when she showed up to the White House Christmas party in a sleeveless white dress. Then on Saturday night, she had jaws dropping when she arrived at the White House Congressional Ball wearing a form-fitting, white shimmering sequins gown.
The Daily Mail reported:
"Melania Trump looked merry and bright as she joined her husband at the Congressional Ball held in the grand foyer of the White House, which Donald Trump hailed his 'happy place', on Saturday evening.
The first lady, 48, dazzled in a white shimmering sequins gown by Céline and made a grand entrance with Trump as the band played Hail to the Chief.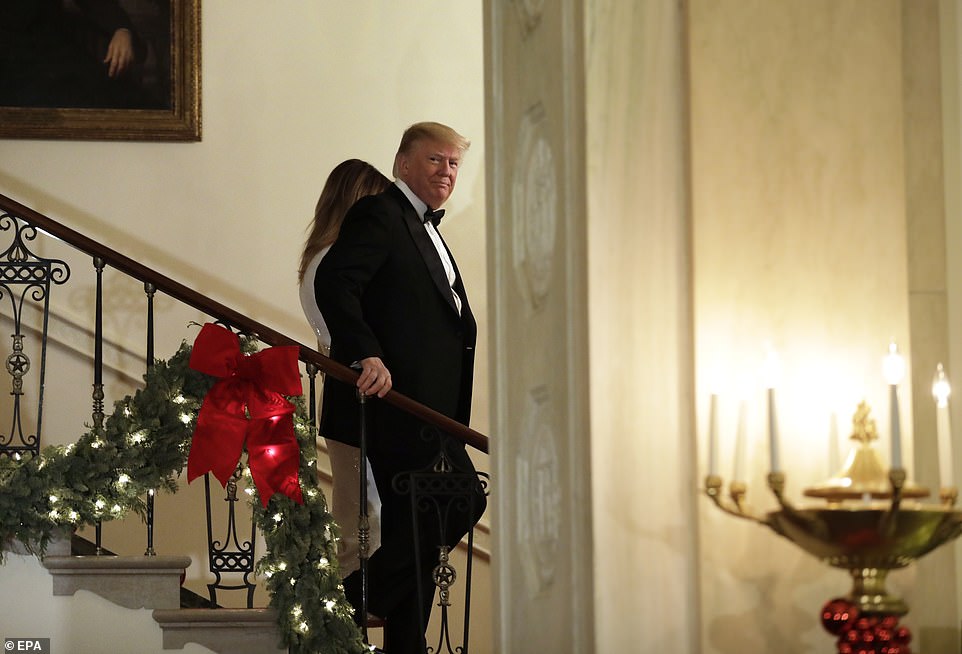 Donald Trump addressed the crowd with a four-minute speech celebrating his two years in office.
'It's been an incredible two years, it's been very, very special. No administration has done more in the first two years than the Trump administration,' he said.
'We have so much more to do and again this is going to be a really exciting week and I think it's going to be a really exciting year and next two years. Exciting things happened over the past 24 hours…' he said citing how a federal judge ruled the Affordable Care Act as unconstitutional on Friday evening, which could lead to the undoing of Obamacare.
He welcomed the audience to enjoy the 'special' grandeur of the White House adding that he and Melania love living there.
President @realDonaldTrump thanking our stunning @FLOTUS at the Congressional Ball tonight for the incredible work she has done decorating the @WhiteHouse for Christmas.

"I love what she has done, and I'll tell you what she does it from the heart. She has done a terrific job." pic.twitter.com/U96FoKFXgk

— The Columbia Bugle ???????? (@ColumbiaBugle) December 16, 2018
'To me it's a happy place,' he said adding the White House 'is an incredible place to be'.
Addressing the crowd that pulled from both sides of the political spectrum he added, 'I have a lot of friends who are Democrats'.
The president touched on tax and regulation cuts in his speech and applauded Neil Gorsuch and Brett Kavanaugh, the two Supreme Court justices he appointed, as 'great'.
'And what people don't know is that we've almost reached the 100 mark of federal judges, that's a big, big mark,' he said.
'And I think next week we have a chance to get criminal justice reform, they've been trying to do it for many, many years,' he added.
Then he looked towards the future saying 'This is going to be an exciting year and two years' adding 'I believe we're going to get really good health care'.
'If Republicans and Democrats get together, we are going to end up with incredible health care, which is the way it should have been from day one. And it's going to happen,' he said.
'And the other thing they're going to start working on very shortly is an infrastructure bill, because that's something I think everybody wants to see,' he added.
He wished the crowd a happy Christmas, Hanukkah, and New Year and passed the mic to Melania, who he commended for doing 'a job well done' with the decorations.
'Welcome to the White House. Enjoy the evening. Merry Christmas and happy and healthy New Year,' the beaming First Lady said.
She dazzled in a white floor-length sequins dress by Céline and topped off the look with heels.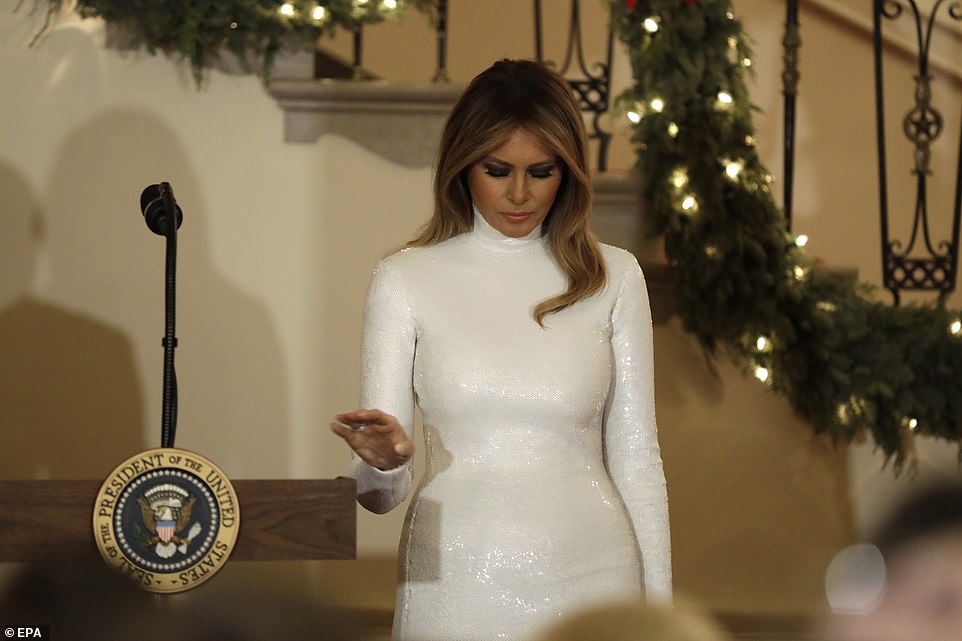 Vice President Mike Pence and Second Lady Karen Pence were also in attendance. As were Jared Kushner and Ivanka Trump.
The president was all smiles in his tuxedo and didn't break a sweat as he talked about his 'great' two years in office.
After mingling with those at the party, Trump and Melania went back upstairs with Mike Pence and his wife Karen Pence.
White House Press Secretary Sarah Sanders posted to her Twitter account: "Such a great night at the White House Congressional Ball. Thank you President @realDonaldTrump and @FLOTUS!"
Such a great night at the White House Congressional Ball. Thank you President @realDonaldTrump and @FLOTUS! pic.twitter.com/sagBbSYkYy

— Sarah Sanders (@PressSec) December 16, 2018
White House Director of Social Media Dan Scavino Jr. was also in attendance.
President @realDonaldTrump, joined by @FLOTUS Melania Trump, @VP Mike Pence and @SecondLady Karen Pence, delivers remarks at the Congressional Ball, in the Grand Foyer of the @WhiteHouse. pic.twitter.com/fpdSrEE97h

— Dan Scavino Jr. (@Scavino45) December 16, 2018
On Friday, Melania made a stunning entrance to the White House Christmas party.
One again Melania Trump looks stunning at the White House Christmas party tonight! pic.twitter.com/BTgfo1jNKr

— Kambree Kawahine Koa (@KamVTV) December 15, 2018
Last week, Melania helped U.S. Marines with the Toys for Tots program and she spent time with our servicemen & women on the USS George H.W. Bush. She also made history by being the first first lady to fly on a V-22 Osprey jet which can land & take-off vertically like a helicopter. An amazing first lady!
An incredible day spending time with our men and women in uniform on USS George H.W. Bush. Thank you for your sacrifice & service! #USA pic.twitter.com/WWncNQfiMj

— Melania Trump (@FLOTUS) December 13, 2018
Share this if you love First Lady Melania Trump!