Earlier today, Vice President Mike Pence was interviewed by the Washington Post. He told the paper that the president of Honduras had relayed to him that leftist groups in his country had organized the caravan that is now heading through Mexico to the United States.
According to Pence, he was also told that Venezuela is financing the caravan.
The Daily Caller reported on VP Pence's meeting:
"The President of Honduras told me this was organized by leftist groups in Honduras and financed by Venezuela," Pence declared. A senior administration official confirmed to The Daily Caller a call took place between Hernandez and Pence regarding the migration situation.""
Venezuela's dictator-president, Nicolás Maduro, rules the country by decree. Under Maduro's reign, the economy has collapsed, while crime, inflation, poverty, and hunger have skyrocketed.
Follow Jeff Rainforth on Facebook.
If it's true that Venezuela is involved, Maduro probably thinks he has a good reason to finance the caravan en route to the U.S.
President Trump isn't Maduro's biggest fan. He has imposed sanctions on his inner circle & even stated that a military coup could topple the autocrat.
Maduro surely would love to hit back at Trump, especially as the midterm election will determine who is in control of Congress. If it's the Dems, they will surely try to impeach. Maduro would love to say he had something to do with it by financing caravans of migrants to our border, forcing it to be an issue in the election.
RELATED: Caravan Supporters Paint U.S. Flag With Swastika & Light It On Fire
We'll find out soon enough if Venezuela is behind the invasion force, though.
With that said, as the migrant caravan treks through Mexico towards the U.S., a second one has formed in Honduras and is on the way.
The Daily Mail is reporting:
"A second migrant caravan is heading for the American border having formed in the wake of an initial group, which has already crossed Guatemala and entered Mexico.
The second caravan is made up of 1,000 people and crossed the border from Honduras into Guatemala on Sunday, before arriving in the town of Chiquimula on Monday night.
They are following in the path of a much-larger group, believed to number around 7,000, which was sheltering in the town of Huixtla, in southern Mexico, overnight on Monday.
It is not clear exactly when or where the second group started their march, though it is believed to be somewhere near San Pedro Sula, where the first started.
The group, some of whom were accompanied by young children, waved Honduran flags as they marched.
Guatemalan armed forces also arrived to keep an eye on the migrants as they passed through on their way to America.
They are around 200 miles behind the first group, with at least 1,300 miles between them and the nearest US border crossing in McAllen, Texas.
President Trump has vowed to turn away the 'onslaught of illegal aliens' before they reach the US, and has even floated the idea of using the Army to do so.
Sadly, it looks like Mexico's Police and Military are unable to stop the Caravan heading to the Southern Border of the United States. Criminals and unknown Middle Easterners are mixed in. I have alerted Border Patrol and Military that this is a National Emergy. Must change laws!

— Donald J. Trump (@realDonaldTrump) October 22, 2018
However, his hardline rhetoric does not appear to have deterred marchers from joining the caravans – claiming there is no life for them in Honduras because of a lack of jobs and soaring crime rates.
Every time you see a Caravan, or people illegally coming, or attempting to come, into our Country illegally, think of and blame the Democrats for not giving us the votes to change our pathetic Immigration Laws! Remember the Midterms! So unfair to those who come in legally.

— Donald J. Trump (@realDonaldTrump) October 22, 2018
Trump has also threatened to cut aid to Guatemala, Honduras and El Salvador for allowing migrants to pass through.
Guatemala, Honduras and El Salvador were not able to do the job of stopping people from leaving their country and coming illegally to the U.S. We will now begin cutting off, or substantially reducing, the massive foreign aid routinely given to them.

— Donald J. Trump (@realDonaldTrump) October 22, 2018
He was initially complimentary of Mexico's efforts to stop the migrants crossing a bridge from Guatemala into the southern state of Chiapas, though the first caravan eventually found its way around the blockade.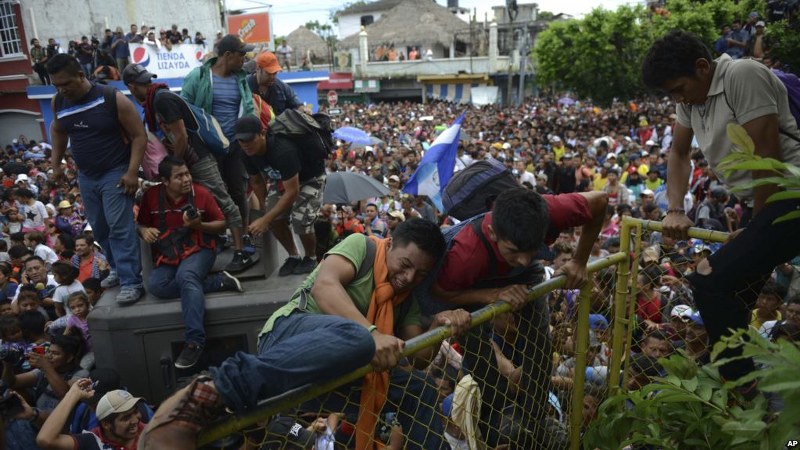 The President has also accused Middle Easterners of traveling with the caravans, though reporters at the scene said they had not seen evidence of this.
Associated Press reported that the caravans were largely made up of Hondurans, Guatemalans and Salvadorans.
Fox News reported that several people traveling in the caravan had already been deported from the US, but were heading back to try and get into the country again.
The president also returned to his political messaging just 15 days before the midterm congressional election, saying voters who fear the impact of a mass influx of illegal immigrants should elect more Republicans.
'Every time you see a Caravan, or people illegally coming, or attempting to come, into our Country illegally, think of and blame the Democrats for not giving us the votes to change our pathetic Immigration Laws! Remember the Midterms! So unfair to those who come in legally,' he said.
The first caravan is thought to have started with a group of 200 migrants traveling together for safety who set out from San Pedro Sula around October 13.
However, it has now swelled to around 7,000 people during the course of the march, which has already taken them almost 300 miles from Honduras to the town of Huixtla, Mexico, where they were camped on Monday night.
The first group met little resistance as it marched across Guatemala, but was initially turned back by police armed with riot shields and tear gas when it reached Mexico.
Thousands crowded on to a narrow bridge running between the two countries on Friday as they were told they would need to apply for visas before entering the country.
While several hundred heeded the call, and many are still camped out awaiting processing, thousands more found ways across the river – including sailing on makeshift rafts and being taken across in the cars of native Mexicans.
They now face a slog of at least 1,000 miles across Mexico before reaching the closest crossing point into the US. Many migrants traveling in another caravan, which set out earlier this year, dropped out during this phase.
It appears the migrants are walking around 20 miles per day. At that rate, they should arrive at the US southern border some time around the New Year.
However, there are fears that Mexican cartels, which control much of the illegal migration through the country, will try to help them across – for exorbitant fees."
If Venezuela's president is indeed financing the caravans in order to influence the U.S. election, or for any other reason, there should be severe consequences.
The caravans should be viewed as an invading force sent by a hostile power. And if the hostile power is Venezuela, perhaps Trump should have the CIA pay Maduro an unexpected visit with some nice presents.