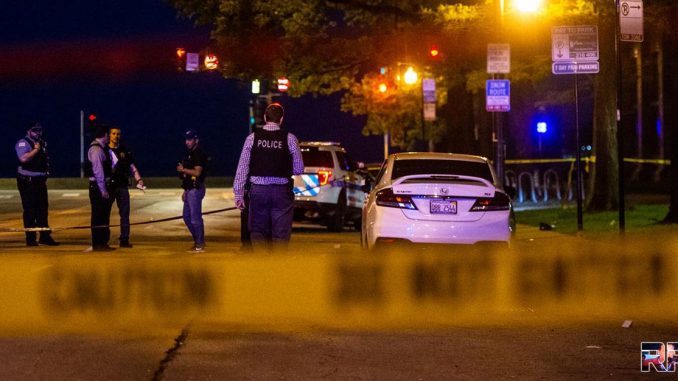 Dems won't say anything about this, though. Doesn't fit their narrative.
Via Daily Caller:
Several shootings, including two mass shootings, left seven people dead and 53 injured in Chicago over the weekend, according to ABC 7 Chicago.
More than a dozen people were injured, and one fatally injured, in two mass shootings in one police district Sunday, ABC reported.
The first mass shooting occurred around 1:20 a.m. when an unnamed suspect opened fire from a black Chevrolet Camaro in Douglas Park Sunday, according to Chicago CBS.
UPDATE: 53 shot, 7 fatally in Chicago weekend shootings: https://t.co/mBN6CJPUhh pic.twitter.com/vs6YeTYiek

— ABC 7 Chicago (@ABC7Chicago) August 5, 2019
The injured include a 21-year-old man shot in the groin, a 25-year-old woman shot in the arm and leg, a 20-year-old man shot in the right side, a 19-year-old woman shot in the right leg, a 22-year-old woman with unknown injuries, a 21-year-old man shot in the left leg and a 23-year-old man shot in the chest and hand.
A group of unidentified shooters opened fire on people at a block party around 3:45 a.m. Sunday, killing 33-year-old Demetrius Flower and injuring eight others.
Flower's father, Keith Flowers, said he was the second son he has lost to violence, according to CBS Chicago.
"Please stop. It's killing our families. It's destroying the fiber of our communities. We have to stop this senseless killing, because if we don't, there's nothing going to be left. There's nothing going to be left," Keith Flowers told reporters.
Injured include a 35-year-old man shot in the forehead, a 28-year-old man shot in the hip, a 27-year-old man shot in the foot, a 28-year-old man shot in the leg, a 14-year-old boy was shot in the thigh, a 21-year-old woman suffered a graze wound to the thumb and 19-year-old woman was shot in the head.
No suspects are in custody yet after both mass shootings.
Below is the sound that Chicago needs to change its ways on how we handle gun offenders. Audio from the tragic shooting at 18th & Kildare yesterday shows that criminals have no deterrent to carrying illegal guns in our city and this is what residents and police are up against. pic.twitter.com/VwixZwR0Vb

— Anthony Guglielmi (@AJGuglielmi) August 5, 2019
Another 21-year-old man was shot twice and died of injuries after two men walked up to his parked car and started shooting Sunday, leaving one woman injured, ABC reported.
Also on Sunday around midnight, 19-year-old Joshua Smith was discovered with a gunshot wound to the back and later died in the hospital, and at 2:25 a.m., 23-year-old Johnny Parri was shot in his vehicle when an unnamed suspect opened fire.
On Saturday, 23-year-old Calvin Seay was fatally shot outside his home at 1:30 p.m. (RELATED: Liberals Blame Trump, Fox News Following Weekend Shootings)
At least two others were fatally injured and over 30 others were injured in separate incidents between Friday and Sunday.
Chicago's Mt. Sinai Hospital was forced to go on bypass for several hours after the shootings, and on Sunday night, 50 additional police officers were brought into the city's 10th district.
Democratic Mayor Lori Lightfoot retweeted an Aug. 4 post from Anthony Guglielmi, chief communications officer for the Chicago Police Department, that reads, "A tragic 24 hrs for our country. Our thoughts & condolences are with everyone affected by this senseless gun violence."
"In Chicago, we are investigating 2 multiple victim shootings in the Ogden District & there is no known connection to El Paso or Dayton," the tweet continued.
A tragic 24 hrs for our country. Our thoughts & condolences are with everyone affected by this senseless gun violence. In Chicago, we are investigating 2 multiple victim shootings in the Ogden District & there is no known connection to El Paso or Dayton. pic.twitter.com/zEhX3Swx60

— Anthony Guglielmi (@AJGuglielmi) August 4, 2019