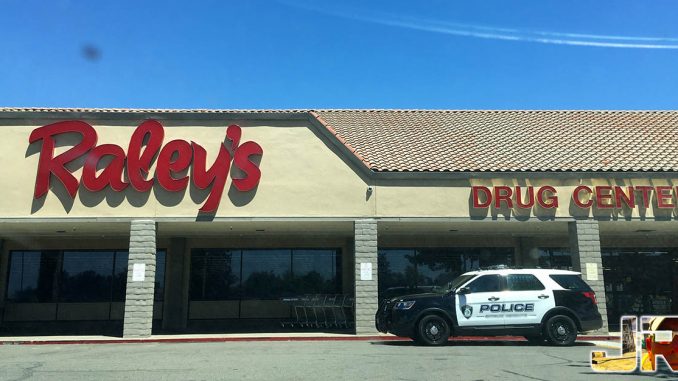 Here in California, lawmakers have made it illegal to carry a firearm on your person in public. As the coronavirus panic sweeps the state, there will probably be more instances like this. I would suggest carrying a knife, pepper spray, or a walking stick if you are going out since you can't carry a gun to protect yourself from thugs who prey on the weak.
The Sacramento Bee is reporting:
"A woman suffered serious injuries after she was attacked and robbed of her groceries and wallet by a man wearing a mask outside a Raley's store in South Lake Tahoe, police said.
The victim on Tuesday remained hospitalized in an intensive care unit, the South Lake Police Department said in a news release.
The attack occurred on Monday near the 1900 block of Lake Tahoe Boulevard. The 57-year-old South Lake Tahoe woman went grocery shopping at the nearby Raley's store.
Police officials said the woman was walking home toward Tata Lane, when she was attacked in the meadow behind the Raley's and the Alpine Liquor store.
The unidentified man threw the woman to the ground and hit her, causing serious injuries. The robber stole her groceries and her wallet, according to police.
Police described the robber as a possible transient man wearing a black beanie, a black ski mask, a dark jacket and light-colored pants.
Police asked anyone who witnessed this robbery, who see other similar crimes or who have been victims in a similar crime to call the South Lake Tahoe Police Department 530-542-6100 or the department's tip line at 530-541-6800 and reference case number 2003-1368."
On the heels of the robbery, today we found out that a Sacramento judge is allowing the early release of inmates convicted of felonies & misdemeanors.
BREAKING: Sacramento County judge authorizes the Sheriff's Office to release jail inmates with 30 days or less remaining in their sentences. Ordered signed today and in effect until May 30. Includes misdemeanors and felonies. @MarshallProj

— Abbie VanSickle (@AbbieVanSickle) March 17, 2020
In other news, most of Central California to the Bay Area has been placed on lockdown because of the coronavirus. Here in Sacramento, we were directed to stay home until further notice. If the public does not comply, county officials said that they can make the order "police enforceable."
Via the Sac Bee:
"In yet another dramatic move to fight the spread of coronavirus, Sacramento County health officials on Tuesday afternoon called on all residents, not just the elderly, to stay at home effective immediately unless they have essential chores to do, such as grocery shopping, banking, restaurant food pickups, or health appointments.
The directive stops short of being a formal order, but represents a stricter stance than Gov. Gavin Newsom called for Monday night when he asked all restaurants and gyms to close, and for anyone 65 and older to hunker down at home for their safety.
"A directive is an order by another name, and it's crucial that we all follow it," Sacramento Mayor Darrell Steinberg said. "This is what we need to do to flatten this curve and prevent our health care system from being overwhelmed. It will still allow people to engage in all the essential functions of life, to go grocery shopping, to keep essential medical appointments, and to get outdoors and take a run or walk, as long as it's at a safe distance from others.
Neither the Sacramento nor Bay Area directives are being enforced by police, as of yet, and community leaders and health officials say they are hoping businesses, restaurants, bars and residents will respect the guidelines. County officials said they have the authority to issue a formal and police enforceable health order, but are stopping short of that.
County health chief Dr. Peter Beilenson said he is encouraging residents to call his agency's phone line, 916-875-5881, to report bars or other establishments that appear to be failing to abide by the directive.
He said county officials may contact those establishments to explain the rules. "I'm taking this very seriously," Beilenson said. If Sacramentans do not follow the county's request, Beilenson said he could turn the directive into a formal order, enforceable by law."
Be safe out there, everyone.
Jeff Rainforth is the photographer & news editor for Airman Kolfage's We Build the Wall, Inc.
Like Jeff on Facebook HERE
Follow him on Twitter HERE