I heard this on the news this morning as the TV was playing in the background and I have to do a little searching for the interview as I was half asleep.
Most of us know something is shady with China and the Biden family, what with Joe Biden's son Hunter having done business with at least one firm in that country.
Lt. Col Bob Maginnis, U.S. Army Retired, was interviewed by Foxx News host Neil Cavuto this morning (Saturday). Cavuto asked Maginnis who he thought Chinese President Xi would want to win in 2024, Trump or Biden.
The Lt. Col. said that China (the CCP) is going to make it so Biden wins the election.
Here's that portion of the interview:
Neil Cavuto: "Curious Your take on if you're Xi Jinping, who do you prefer win the next presidential election Joe Biden or Donald Trump maintains his lead and gets the Republican nomination, Donald Trump?"
Lt. Col Bob Maginnis, U.S. Army Ret: "I clearly I do believe that the Chinese have leveraged to a certain degree media, certain political figures, they're getting the payback that they sought as President Xi so long about the opium war of a century and a half ago, through the fentanyl invasion in this country. And there's not one area or I can think of that Xi would favor Mr. Trump over and certainly not economically.
RELATED: Four Years Ago We Built A Private Border Wall – We MAY Be Coming Back
And given the Chinese situation today which is in the doldrums to say the least economically that they don't need Mr. Trump coming in reimposing new tariffs and making it more competitive for them. They need help and Xi won't buy into the agenda that I believe Mr. Trump would bring to the table."
Neil Cavuto: "Amazing I had a lot to throw at you. I got to do better homework next time. Great job Carl very good seeing you have a safe weekend and thank you for your service to this country."
WATCH:
China's going to influence this election! Share this everywhere! Get in the streets!
Below are some drone shots of We Build the Wall's private border wall I took between 2019 and late in 2022, plus some random photos.
The Washington Post of all liberal rags, actual covered some of Hunter Biden's dealings in China (That after they said Hunter's laptop was Russian disinfo for about a year & a half and deceived the nation).
They reported:
Joe Biden claimed, his son had earned no money through business dealings in China.
But now, nearly three years later, Biden's assertions have been directly rebutted by Hunter himself. In court testimony last week, the younger Biden acknowledged that he in fact had been paid substantial sums in China — the first official confirmation that this was the case.
RELATED: Four Years Ago We Built A Private Border Wall – We MAY Be Coming Back
The discrepancy between father and son underscores the extent to which Hunter Biden's business deals continue to create political headaches for the White House, with Republicans in Congress investigating whether Joe Biden personally benefited from his son's entanglements. There is no evidence to support such claims. But Hunter's admission in court came shortly before lawmakers on Monday privately interviewed his former business partner Devon Archer, who, according to accounts by both Democrats and Republicans, said Hunter put his father on speaker phone with business associates about 20 times over the course of a decade.
In 2019, Biden said he had "never spoken to" his son about his business dealings. But lawmakers disagreed about whether Archer testified that the calls were substantive, and a transcript of Monday's hearing has not been released. "Nothing about the House Republicans' witness testimony contradicts what the President has long stated," White House spokesperson Ian Sams said."
House Speaker Kevin McCarthy appeared to refer to Biden's debate remarks last week when he suggested the House might take up an impeachment inquiry. "When Biden was running for office, he told the public he has never talked about business," McCarthy told Sean Hannity of Fox News. "He said his family has never received a dollar from China — which we prove is not true."
What is clear is that Hunter Biden did receive "a dollar from China." However, note that Welker asked "about the work your son has done in China and for a Ukrainian energy company when you were vice president." Biden might have been narrowly interpreting that question as confined to just that period of time — and the payments to Hunter Biden came after his father left office.
The Facts
Hunter Biden has come under Republican congressional scrutiny because his business interests overlapped at times with his father's official business.
When his father was vice president, Hunter Biden was given a board seat on the Ukrainian energy company known as Burisma — at the same time his father was the Obama administration's point person on Ukraine. Hunter Biden also flew on his father's Air Force transport when the vice president went on an official trip to China in 2013. By Hunter's own admission, he used the trip to connect with a Chinese business partner, even introducing the partner to his father.
Twelve days after he flew to Beijing, Hunter Biden joined the board of a just-formed investment advisory firm known as BHR (Bohai, Harvest and Rosemont), whose partners included Chinese entities, including the man he introduced to his father. Affiliates of the advisory firm said they planned to raise $1.5 billion, which was the source of Trump's repeated false claim that Hunter Biden had taken that amount of money from China.
"His son walked out with a billion and a half dollars from China," Trump asserted in the second debate, after Biden answered Welker's question about whether Hunter's business practices were ethical. "Not true," Biden shot back.
It appears the fundraising fell far short of that. Hunter Biden's representatives have insisted he was not an equity owner in the fund while Joe Biden was vice president. Hunter Biden later acquired a 10 percent interest in the entity overseeing the fund, but then his lawyers said he divested it after his father was elected president.
Separately, after Joe Biden left public office, Hunter Biden in 2017 inked a deal with CEFC China Energy, a Chinese energy conglomerate. The Washington Post reported last year that documents, including emails found on a Hunter Biden laptop that emerged during the final weeks of the 2020 presidential campaign, showed that over the course of 14 months, the CEFC and its executives paid $4.8 million to entities controlled by Hunter Biden and President Biden's brother, James. The Post did not find evidence that Joe Biden personally benefited from or knew details about the transactions with CEFC.
Follow me on Facebook HERE
Subscribe to my YouTube HERE
Follow me on Rumble HERE
Follow me on Gettr HERE
On Truth Social HERE
On Instagram HERE
My non-political, professional photography page on Facebook is here, and on Instagram here
Check out my new ad-free, reader-supported Substack for my live border & other reporting.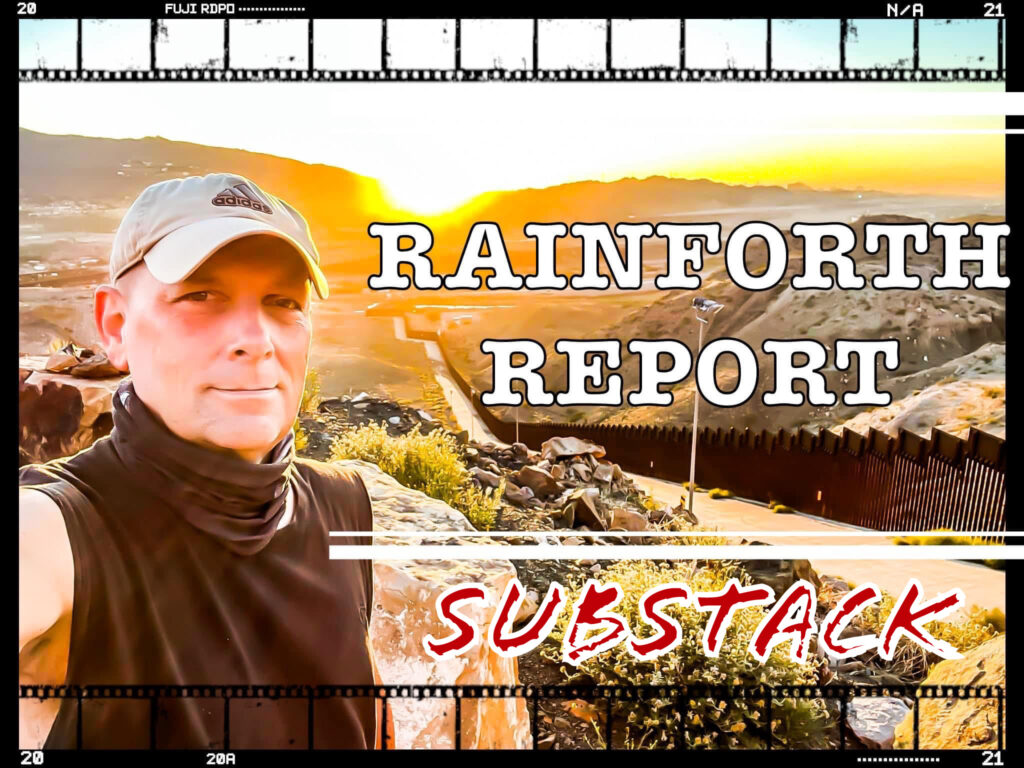 Just before the Oct. 22 debate, one of Hunter Biden's former partners, Tony Bobulinski, issued a statement about an email on the laptop concerning a proposed partnership agreement involving CEFC officials in which reference was made to 10 percent that would be "held by H for the big guy." The email referred to Hunter and the former vice president, Bobulinski said. Bobulinski was a guest at the debate at the invitation of the Trump campaign. However, James Gilliar, the business partner who sent the email, issued a statement saying he was unaware of Joe Biden's possible involvement.
"Joe Biden has never even considered being involved in business with his family, nor in any overseas business whatsoever," Biden campaign spokesman Andrew Bates said at the time in a statement. "He has never held stock in any such business arrangements, nor has any family member or any other person ever held stock for him."
What wasn't clear until now was how much money Hunter Biden personally received from these deals.
Last week, Hunter Biden appeared in court concerning a tentative plea agreement he had reached with the Justice Department regarding a failure to pay more than $100,000 in taxes in 2017 and 2018 and a gun charge. The agreement is now under renegotiation because of concerns raised by U.S. District Judge Maryellen Noreika.
Under questioning from Noreika, according to a transcript of the proceeding, Hunter Biden acknowledged sums of money he had earned in 2017 and 2018 that were listed in the proposed plea agreement (a copy of which was obtained by Politico). After accounting for expenses, Hunter Biden reported nearly $2.4 million in income in 2017 and $2.2 million in income in 2018 — most of which came from Chinese or Ukrainian interests, according to court testimony.
The names of companies and individuals were not mentioned in the plea agreement but the judge elicited details from Biden.
The agreement "says during the calendar year 2017, you earned substantial income including just under a million dollars from a company you formed with a CEO of a Chinese business conglomerate," Noreika said.
"I started a company called Hudson West, your honor, and my partner was associated with a Chinese energy company called CEFC." He provided the name of Yi Jianming as chairman of CEFC. He confirmed that CEFC also paid him an additional $644,000 during that year.
He also acknowledged he earned $500,000 in directors fees from Burisma, or about $42,000 a month. The plea agreement said he earned $70,000 from Romanian business interests and $666,000 from domestic business interests.
Noreika also noted that "on March 22nd, 2018, you received a million dollar payment into your Owasco bank account as payment for legal fees for Patrick Ho."
The Post previously had reported Biden received a $1 million retainer, issued as part of an agreement to represent Patrick Ho, a CEFC official who would later be charged in the United States in connection with a multimillion-dollar scheme to bribe leaders from Chad and Uganda.
Noreika appeared confused by this arrangement, noting that Hunter Biden was of counsel to a law firm at the time, but it appeared this payment was not related to that work. He clarified that the payment was to what he described as his own law firm. Noreika asked: "So you had your own law firm as well?"
Biden replied that he thought a corporate entity he had created, Owasco P.C., "acted as a law firm entity." But then he added: "I believe that's the case, but I don't know that for a fact."
A Biden aide, asking to not be identified because this concerned a campaign statement from 2020, said: "The President at that time was addressing a barrage of false attacks by Donald Trump who repeatedly lied about the Bidens, including regarding Ukraine which got him impeached on a bipartisan basis, and was forcefully drawing the contrast between his family's private affairs as private citizens not involved in government and the Trump family's who continued to make money from China even as Jared, Ivanka, and Trump himself continued to make millions from foreign countries even when they worked in the White House."
The Pinocchio Test
Joe Biden's comment that Hunter Biden made no money in China was made in the course of a contentious debate in which he rebutted a number of false claims made by Trump. Yet he made his statement in response to a direct question from the moderator. It's possible he purposely tailored his answer to just the period when he was vice president, but Biden has never been known for such parsing of language. The president tends to be sloppier in his phrasing — which often gets him into trouble.
But the fact remains that Biden, during the debate, denied his son had made money in China. In court last week, his son has said he earned hundreds of thousands of dollars from Chinese business deals.
The post gave Joe Biden "Four Pinocchios" for that massive lie to the American people which influenced how they voted.
Follow me on Facebook HERE
Subscribe to my YouTube HERE
Follow me on Rumble HERE
Follow me on Gettr HERE
On Truth Social HERE
On Instagram HERE
My non-political, professional photography page on Facebook is here, and on Instagram here
Check out my new ad-free, reader-supported Substack for my live border & other reporting.