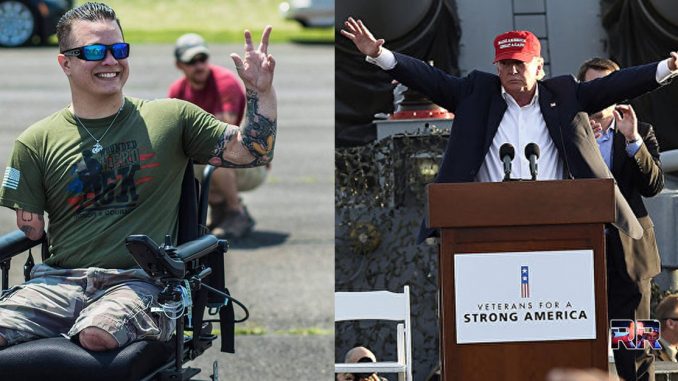 President Trump is keeping his promises.
I've worked with veterans, wounded & not, for many years. If anyone in the country deserves help & respect, it's our vets.
Back in 2014 when Marine Sgt. Andrew Tahmooressi was held in a Mexican prison for accidentally crossing the border I organized rallies at Mexican consulates to demand he be freed.
Sgt. Tahmooressi was injured by an IED explosion in Afghanistan & had PTSD. He deserved help & many Americans came to his aid. Even Trump demanded Tahmooressi be released and he wasn't president yet.
USMC Andrew Tahmooressi should be freed immediately. He never should have been jailed in the first place. Weak leaders. #FreeOurMarine

— Donald J. Trump (@realDonaldTrump) October 7, 2014
Trump also gave Tahmooressi $25,000 to get back on his feet.
It is my great honor to send $25,000 to Sgt. Andrew Tahmooressi. #marinefreed

— Donald J. Trump (@realDonaldTrump) November 10, 2014
Follow Jeff on Facebook for the latest news!
Prior to the Tahmooressi rallies, I organized rallies to demand Marine Jon Hammar be freed from Mexican custody. I left a sign on the Mexican consulate in Sacramento to kick things off. Thankfully, Hammar was freed before the rallies took place.
As a budding writer, I reported on triple-amputee vet Airman Brian Kolfage and eventually went on to work with him as editor-in-chief of a news organization for several years. Facebook took down Kolfage's pages last month & now he is fighting a battle for free speech.
Yesterday, President Trump spoke, honoring National Veterans and Military Families Month. In his speech, he relayed that since his inauguration his administration has removed over 3600 government employees who did not give our veterans the care they deserve. He campaigned on getting our vets the treatment they deserve, and he's following through.
Last year, I signed the landmark VA Accountability Act to ensure those who mistreat our Veterans can be held fully accountable. Since my inauguration, we have removed more than 3,600 government employees who were not giving our Vets the care they deserve…. pic.twitter.com/KqWXXt7D4U

— Donald J. Trump (@realDonaldTrump) November 15, 2018
Via The White House:
"Since day one, my administration has also taken bold action to reform the Department of Veterans Affairs and deliver our veterans the care they so richly deserve. Working very hard on it.
Last year, I signed the landmark VA Accountability Act, which, as you know, by accountability, that ensures us the right to get rid of, in a very nice way, or a very rough way — any way we want — the Secretary probably is a rough way, and that's okay; that's okay, too, Secretary — those who mistreat our veterans. And they are going to be held fully accountable.
This was something that for, I would say, four decades they've been trying to get it approved. Sounds easy; it's not. I love the unions; we love civil service. But they didn't make this one easy for many, many decades. We got it done. We're good at getting things done.
Since my inauguration, we have removed more than 3,600 government employees who were not giving our vets the care or respect that they deserve.
In June, I proudly signed into law the most significant VA reform in half a century, called Veterans Choice. Everyone knows what that means. Now, if a veteran cannot get the treatment they need from the VA in a timely manner, they can see a private doctor. They don't have to wait 12 days or 20 days.
I heard horror stories like you wouldn't believe during the campaign, when I was campaigning. And I appreciate the Secretary saying that it was a very major part — the veterans — of all of my speeches. I don't think I left them out of one speech, and I made plenty of them. And they were at the top. And now we're really producing I think far greater than anyone would have thought possible.
Since I took office, 2.2 million veterans have been able to receive the care they need outside of the VA system. So there's no more waiting on lines. Literally, people were waiting. You know better than I do. But they'd be waiting three, four, five, six weeks, in some cases, to see a doctor. Now they go and they see a private doctor right outside, hopefully right next to their house or where they live, and we pay for it. And they are very thankful. It's been incredible.
And we're actually upping that program quite a bit as time goes by. We're going to be doing certain steps that we always had planned. But we're doing it step by step. And we've had great support in Congress, I have to say that.
In September, I signed into law the largest funding bill for the VA in history. We secured $8.6 billion for veterans' mental health services; $400 million for opioid abuse prevention; and $270 million for rural veterans' health initiatives. The rural veterans have had it pretty tough over the years because they're pretty far away from a lot of potentially good treatment.
Working with the VA and Department of Housing and Urban Development, we've helped nearly 54,000 veterans in need. We've helped them find permanent housing and great services last year."
It's amazing that we have a president who is doing so much for our veterans. Many politicians promise to do good things, but much of the time those promises turn out to be empty campaign rhetoric. Not with President Trump. He's following through.
Share this if you're proud of what Trump is doing for our veterans!
Follow Jeff on Facebook for the latest news! MAGA!