Former President Trump announced today that he and his team would prove that the 2020 election was rigged.
Trump posted on Truth Social:
"For the first time in three years, brave American Patriots will be able, in Court, to show how the Presidential Election of 2020 was RIGGED & STOLLEN. For those RINOS, Radical Left Democrats, Communists, Marxists, Fascists , & others who say, "Don't Look Back, Look Forward," they either do not want to reveal the answers because they "got away with murder," or are FOOLS & COWARDS because we now know the answers to all of the Fraud, Irregularities, & Cheating, & WE CANNOT LET IT HAPPEN AGAIN!"
He added:
"NOBODY HAS EVER FOUGHT FOR ELECTION INTEGRITY LIKE PRESIDENT DONALD J. TRUMP. FOR DOING SO, I WILL PROUDLY BE ARRESTED TOMORROW AFTERNOON IN GEORGIA. GOD BLESS THE UNITED STATES OF AMERICA!!!"
The former president then went on to plug his interview with Tucker Carlson which will air at the same time as the GOP primary debate hosted by Fox News.
"MY INTERVIEW WITH TUCKER CARLSON WILL BE AIRED TONIGHT AT 9:00 P.M. "SPARKS WILL FLY." ENJOY!"
I took photos of President Trump at CPAC this year. I had media credentials for the event so I was able to get up close.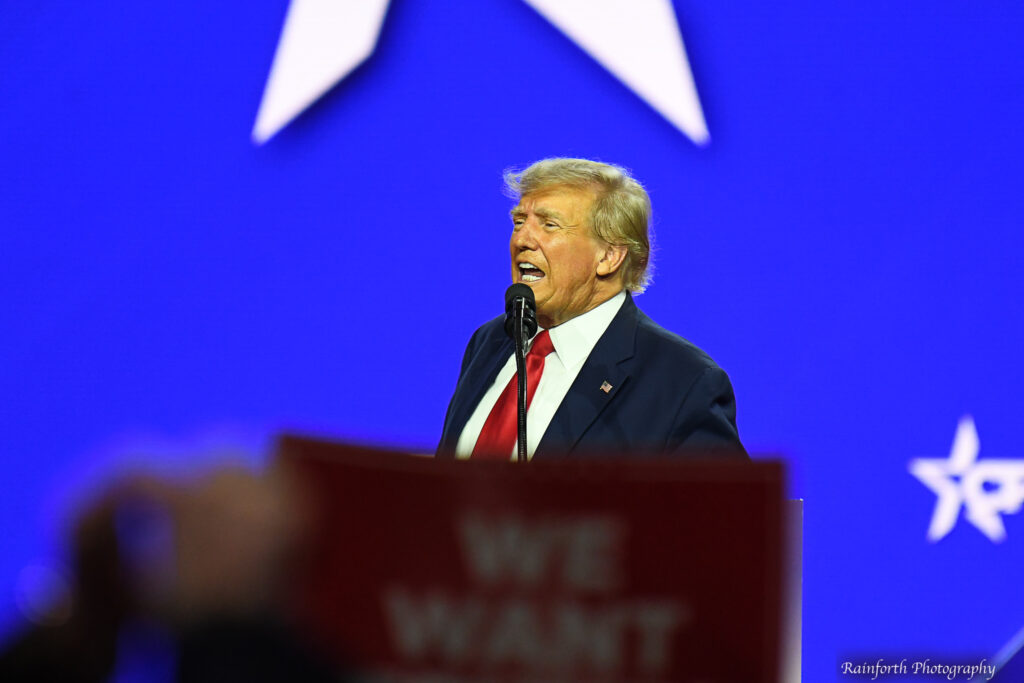 The New York Post reported, "Trump plans to turn himself in Thursday to the Fulton County jail where he has agreed to post a $200,000 bond in the case charging him with illegally trying to overturn Georgia's 2020 election result."
Trump agreed to the surrender during negotiations with Fulton County District Attorney Fani Willis' office on Monday, the ex-president confirmed on Truth Social.
"Can you believe it?" he posted on his social media platform. "I'll be going to Atlanta, Georgia, on Thursday to be ARRESTED by a Radical Left District Attorney, Fani Willis…"
Trump claimed that Willis was coordinating with "Crooked Joe Biden's DOJ" in what he described as a witch hunt.
The 77-year-old's surrender was first reported by CNN.
Trump's consent bond order was also revealed on Monday in a filing with the Superior Court of Fulton County. The bond order was signed by Judge Scott McAfee, District Attorney Fani Willis, and members of Trump's legal team.
Under the terms of the agreement, the 2024 Republican presidential frontrunner will pay the court an $80,000 bond for release on count 1 of the Georgia grand jury's indictment, which accuses Trump of violating the state's Racketeer Influenced and Corrupt Organizations (RICO) Act.
The former president will further be required to post an additional $10,000 bond for each of the remaining 12 counts in the indictment, which include charges of criminal solicitation, criminal conspiracy, filing false documents and making false statements.
Trump will be allowed to post the bond as cash, commercial surety, or through the "Fulton County Jail 10% program," according to the filing.
The former president is also required to abide by state and federal laws, appear in court as directed, refrain from intimidating his co-defendants or witnesses, and not communicate about the facts of the case with his co-defendants or witnesses.
Lawyers Todd Blanche, Jennifer Little and Drew Findling – members of Trump's defense team – were spotted visiting Willis' office Monday as they negotiated the terms of the 45th president's bond and release conditions.
The former president was indicted Aug, 14 alongside 18 allies, including former White House chief of staff Mark Meadows and ex-Mayor Rudy Giuliani.