Former President Trump arrived in Georgia via his jumbo jet known as Trump Force One today.
He arrived at the Fulton County Jail in a massive convoy of Secret Service and local & state law enforcement vehicles.
I covered CPAC 2023 and got photos of Trump as I had my media credentials.
Update 6:21 PST: Trump has posted his first social media comments since his arrest. You know he is pissed and for good reason!
CNN was the first to release the mugshot to the public. I took a picture of my TV screen.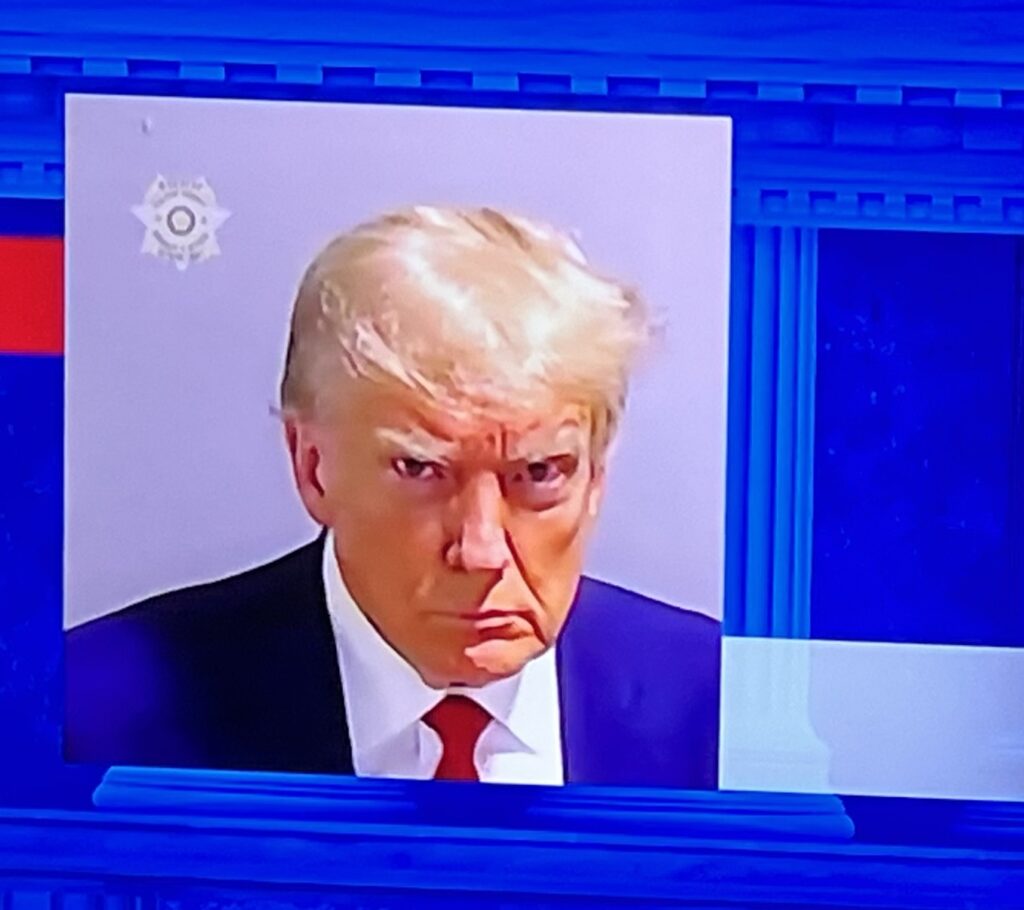 🚨BREAKING: Donald Trump arrives in Atlanta, Georgia to face arrest.

— Benny Johnson (@bennyjohnson) August 24, 2023
We are watching the republic die before our eyes pic.twitter.com/9dBMP3KYqb

— Jack Poso 🇺🇸 (@JackPosobiec) August 24, 2023
According to Fox News "Former President Trump turned himself in Thursday night at the Fulton County jail in Atlanta, Georgia after he was charged with 13 counts stemming from the state probe into his alleged efforts to overturn the 2020 presidential election in the state."
RELATED: Trump Supporters Make Hilarious Mugshot Memes You Have To See, LOL
The court had set Trump's bail at $200,000. He was quickly processed and released.
The jail records stated that Trump stands at 6 feet, 3 inches and 215 pounds. The records state he has "Blond or Strawberry" hair and blue eyes.
BREAKING: Footage of Trump arriving at the Fulton County jail.#TrumpMugShot #TrumpArrest #TrumpMugShotDay #trumpmug pic.twitter.com/NdQgIJzp41

— Insider Times (@Insider_Times) August 24, 2023
Fox News Digital has learned his formal arraignment, where he is expected to plead not guilty, will take place sometime early next month.
Trump was required to take a mugshot. Others charged out of Fulton County District Attorney Fani Willis' probe, like former Trump lawyers Rudy Giuliani, Sidney Powell, Jenna Ellis and more had their photos taken during processing as well.
Trump was charged with one count of violation of the Georgia RICO Act, three counts of criminal solicitation, six counts of criminal conspiracy, one count of filing false documents and two counts of making false statements.
Trump and more than a dozen others were charged out of the Fulton County probe, including his former White House chief of staff Mark Meadows, his former attorneys Rudy Giuliani, Sidney Powell, Jenna Ellis, Kenneth Chesebro, Jeff Clark, John Eastman, among others.
Trump, speaking to reporters from the tarmac in Atlanta, Ga. Thursday evening after being processed at the Fulton County Jail, said it is "a very sad day for America."
"This should not have ever happened. If you challenge an election — you should be able to challenge an election," Trump said. "I thought the election was a rigged election, a stolen election, I should have every right to do that. As you know you have many people that you've been watching over the years do the same thing — whether it is Hillary Clinton, or Stacey Abrams many others."
He added: "When you have that great freedom to challenge — you have to be able to — otherwise, you're going to have very dishonest elections."
Trump called the case in Georgia "a travesty of justice."
"We did nothing wrong. I did nothing wrong. And everybody knows that," he said, adding that he has "never had such support."
To charge racketeering here is laughable…This is lawless. This is Democrat lawfare. This is election interference."#TrumpMugShotDay #TrumpArrest pic.twitter.com/gdwvoHPuo6

— CBKNEWS (@CBKNEWS121) August 24, 2023
Trump said "the other ones," referring to Democrats, are participating in "election interference and trying to interfere with an election."
"Never been anything like it in our country before," he said. "This is their way of campaigning."
Trump said the Fulton County case is just "one instance, but you have three other instances." He was referring to the three other criminal indictments he faces– one from Manhattan District Attorney Alvin Bragg, and two from Special Counsel Jack Smith.
"It is election interference," he said. "We did nothing wrong at all. And we have every right every single right to challenge an election that we think is dishonest that we think is very dishonest."
Follow me on Facebook HERE
Subscribe to my YouTube HERE
Follow me on Rumble HERE
Follow me on Gettr HERE
On Truth Social HERE
On Instagram HERE
My non-political, professional photography page on Facebook is here, and on Instagram here
Check out my new ad-free, reader-supported Substack for my live border & other reporting.